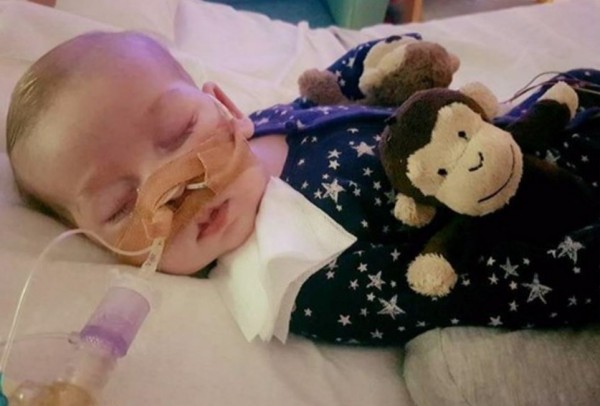 The parents of Charlie Gard have lost their appeal to overturn a court decision to remove the nine-month-old's life support.
The decision was handed down by three judges presiding over the Court of Appeal today, a month after the High Court decided it was in the child's best interests to turn off life support and let him 'die with dignity'.
Charlie was born with a rare genetic condition known as mitochondrial depletion syndrome which affects the brain and other vital organs.
Great Ormond Street Hospital (GOSH) experts believe that little Charlie should be moved to palliative care. However, Charlie's heartbroken parents want to keep him on life support, so that they can bring him to the US for experimental treatment.
The Gards even set up a fundraising page, where they actually hit their target of £1.3 million to send Charlie to the States.
With the parents and the specialists at odds over Charlie's condition, GOSH brought the matter to court. Last month, Mr Justice Francis ruled in favour of GOSH and taking Charlie off life support.
"It is with the heaviest of hearts, but with complete conviction for Charlie's best interests, that I accede to these applications, and rule that Great Ormond Street Hospital may lawfully withdraw all treatment save for palliative care to permit Charlie to die with dignity," he said at the time.
Connie and Chris were naturally devastated when they received the crushing news. They immediately lodged an appeal, hoping to give Charlie one last chance for treatment.
"We won't give up on you because you have a rare disease. It's not your fault. You shouldn't have to die. I'm sorry this happened to you. I wish I could take your place. We love you! We will fight for you until the very end, and we'll pray that we'll get to hold your warm hand forever," they said, on their GoFundMe page.
The parents' application for appeal was considered, with judges upholding the previous High Court decision earlier today. This was reportedly based on the belief that the proposed treatment therapy in the US is experimental and will not help little Charlie's condition.
There are no words for the heartbreak that the Gards must be going through right now. We are thinking of them at this devastating time.