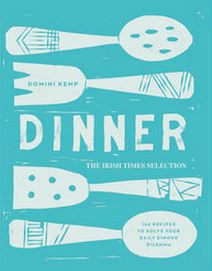 ​Domini Kemp's Irish Times food column takes the fuss out of food by creating healthy, crowd-pleasing dishes for family and friends and it has gained a huge following as a result.
Her latest book, Dinner, deals with the gnawing question we all face every single day – what to have for dinner?
Thankfully, Domini doesn't assume that anyone has a store cupboard brimming with exotic and delicious things. Rather she knows that most of us operate out of a fridge with less than inspiring contents. It's like having a friend in the kitchen with you, urging you on, telling you to relax and pouring you a glass of wine at exactly the right moment.
Taking her most popular dinner recipes from the Irish Times, Domini's new cookbook takes the dilemma out of dinner providing ideas and inspiration for whatever you are in the mood for that evening: chicken, pork, lamb, beef, pasta or vegetarian. Some are more luxurious and would be considered 'treat' dinners, but the vast majority are quick and hassle-free and on the table within an hour.
Domini Kemp's food column appears in the the Irish Times Magazine and she regularly contributes to TV, magazines and newspapers as a chef/ food writer. She has been hailed by The Sunday Times as "easily the best food writer in Ireland".