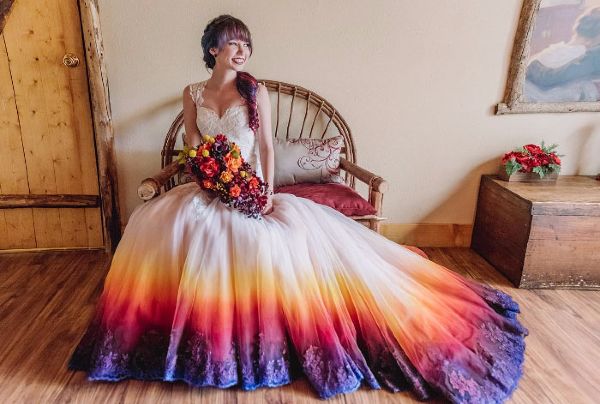 Firstly, congratulations on your engagement - how EXCITING!
Now that the ring is on the finger, it is time to start planning your big day, and there is no better place to start than with the dress.
While we accept that most people will go for a classic and traditional white gown - there is a new wedding dress trend emerging online that we think you'll love.
Dip dyed wedding dressing are gaining serious popularity on Pinterest and Instagram - and we can absolutely see why.
More than ever, brides-to-be are searching for wedding-dress styles that fit their own personality, and what better way to project to the world who you really are than with a stunning ombre gown that flaunts your favourite colour?
Brides reports that the trend has been "blowing up," with splashes of pink, purple, blue, and orange just at the bottom of a bride's dress and, in some looks, on her veil.
Rather than explaining to you just how fabulous this trend is, we decided to do a round up of our favourite dip-dyed dresses from Pinterest (you're welcome).
The beauty of this trend is that it works with pretty much every style of dress, no matter the shape or the material.
What do you think, ladies? Would you try a dip dyed dress?