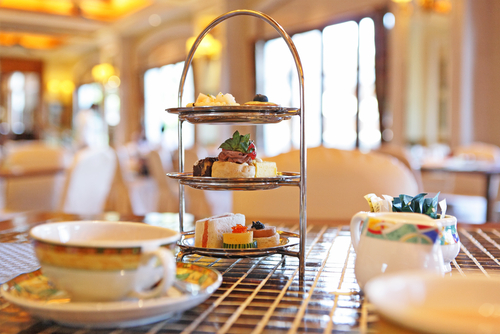 There is nothing quite like a spot of afternoon tea to make you feel suave and sophisticated. This summer, ditch the family holiday to sunnier climates and instead go on a tea trail and uncover Europe at the same time:
The Ritz Carlton, Co. Wicklow
For a true taste of elegance start your journey at one of Ireland's most sophisticated places for afternoon tea. Here you will be treated like royalty in absolutely exquisite settings.
Dalhousie Castle, Edinburgh
Next on your list needs to be Dalhousie Castle in Edinburgh - a 13th century fortress. This medieval castle will ensure you have an Afternoon Tea experience like no other – twist things up with a glass of scotch.
De Bakkerswinkel, Amsterdam
A gorgeous old-school style bakery that serves homemade treats like cream buns, cakes and pastries – perfect for satisfying your sweet tooth.
Prague Vltava River Cruise, Prague
Take in the sights of this beautiful city from the comfort of your river cruise boat and enjoy afternoon delights like cakes and tiny pastries.
Casa de Chá Raposa, Sintra, Portugal
Finally, finish your trip at this traditional tea house that serves small treats under a beautiful teapot chandelier surrounded by vintage tableware.