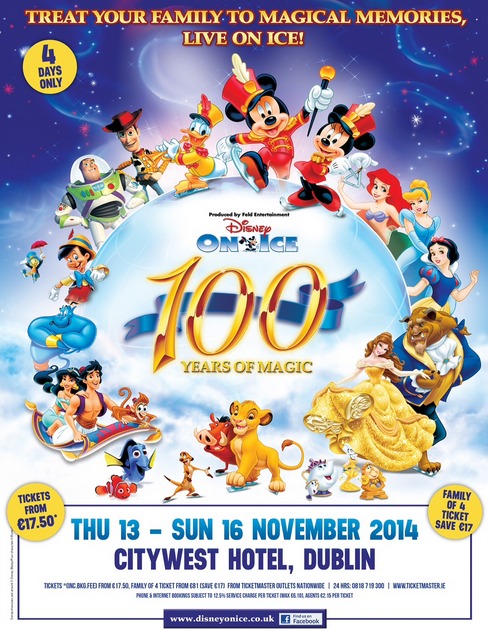 Disney on Ice celebrates 100 years of magic this November and tickets go on sale this week.
The
one-of-a-kind skating spectacular
, which takes place at Citywest Hotel, features more than 60 much-loved stars including Mickey Mouse, Minnie Mouse and their friends from Disney's Mulan, The Lion King and Pinocchio, and Disney/Pixar's The Incredibles and Finding Nemo.
With Mickey and Minnie leading the fun, audiences will enjoy breathtaking production numbers choreographed by Emmy Award®winner Sarah Kawahara. Kawahara previously worked with Michelle Kwan and choreographed the skating segment for the Opening Ceremonies of the 2002 Winter Olympics.
Complementing Kawahara's fabulous skate sequences are the memorable tunes compiled by music directors Art Kempel and Stan Beard that bring the wonderful memories of Disney to life on ice.
Outfitting this cast of more than 60 characters was the challenge facing costume designer Scott Lane. His dazzling designs range from Mickey's Marching Band, to the "it's a small world" dolls, to the stars of Mulan and Finding Nemo. The bright colours and minimal structure in the Nemo costumes allow the characters to move freely in order to mimic the natural movement in water. Renowned designer Bob Mackie also lends his talents to a red sequined evening gown worn by Minnie.
Scenic designer David Potts, who has worked on numerous Broadway productions, creates a theatrical atmosphere on ice. Skaters weave around and enliven the "it's a small world" sequence amidst sparkling floats that turn into a radiant light parade; a blanket of snow and an avalanche fall as Mulan battles the Huns; and a giant present is opened to reveal Buzz Lightyear as he is first introduced to Woody and his pal Jessie.
The show will run from Thursday, 13th – Sunday, 16th November. Tickets go on sale this Thursday, 11th September at 7am and will be available from Ticketmaster outlets and
online
. Prices start at €17.50, with a special family rate of €81 (saving €17).