Sometimes it can be quite tricky to get the little ones excited about doing a craft when they would much rather be watching Netflix or playing with their tablet. Using a theme that they are guaranteed to love is key in this struggle, and the following craft can be reinvented time and time again accordingly.
What you will need:
Empty mason jar (these can be purchased in pound shops or arts & craft shops)
Poster paint or spray paint
Glitter
Paper
Pencil
Scissors
Selection of stencils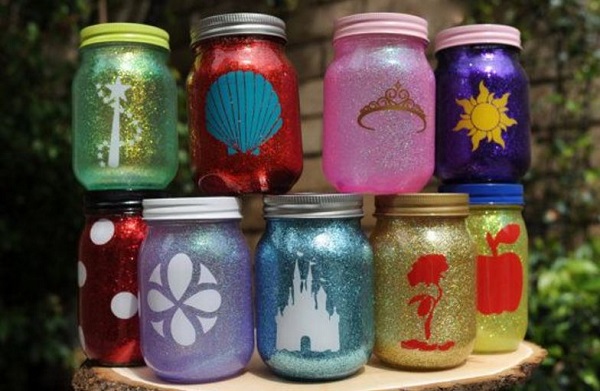 What to do:
Decide on a theme for your jar – i.e. choose which princess or fairy tale you are going to channel. For Snow White, you can opt for a blue, red and yellow theme with an apple; for the Little Mermaid, you can go with blue, red, purple and a shell design; or for Elsa, you can go for blue and silver, with a snowflake design.
For the basic jar design, coat your jar's exterior in poster paint or spray paint (do so outside if you can, or else in a well-ventilated area). Either opt for a glitter paint, or simply add it on yourself, after. If you want your lid to be a different colour, set it to one side.
Next, you need to add your design, and this can be done in a number of ways. You could draw inspiration from the above picture, and source some stickers to apply once the paint is dry. Alternatively, you could use a stencil (printed off from online) and attach this to the jar while you are painting – once you have the colour theme, you can get as creative as you like.
Stick a safety light inside to create a magical lamp, or make a slit in the lid with a scissors to transform it into a money-box.
Image via Pinterest