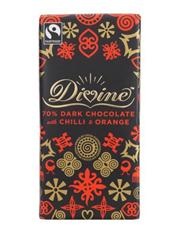 We have always been fans of Divine Chocolate here at MummyPages. It tastes amazing and is a lovely treat for mums after an exhausting day. To tempt us even further with their delicious chocolate, Divine Chocolate is launching two new exciting flavours to add to its range of 100g bars. These new bars coincide with Fairtrade Fortnight this year, taking place from 25th February to 9th March.
Divine are introducing new Dark 70% Chocolate with Chilli & Orange, and 38% Milk Chocolate with Toffee & Salt. The dark rich velvety chocolate is infused with zesty orange and laced with fiery chilli – an exciting combination for the taste buds. The seriously smooth milk chocolate, made for the first time with a higher cocoa content of 38%, is combined with a dash of sea salt and is perfectly counterpointed with the sweet crunch of toffee.
Both bars have been created in response to popular demand and, as always, is made from the 'best of the best' Fairtrade cocoa from Kuapa Kokoo in Ghana, the co-operative that owns 45% of Divine. The two new bars will be exclusively available for sale in Divine's first Pop Up Shop in Covent Garden during Fairtrade Fortnight. They will then be on sale from Divine's online shop
www.divinechocolate.com/shop
, and available from supermarkets and independents from April onwards.
Other flavours that are also available in the Divine range include Dark Chocolate with Raspberries, White Chocolate with Strawberries, and Dark Chocolate with Ginger & Orange.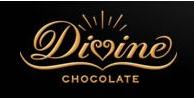 Visit
www.divinechocolate.com
for more information on the new flavours, and to find out more about Fairtrade Fortnight, which aims to empower cocoa farmers while supplying high quality products to customers.