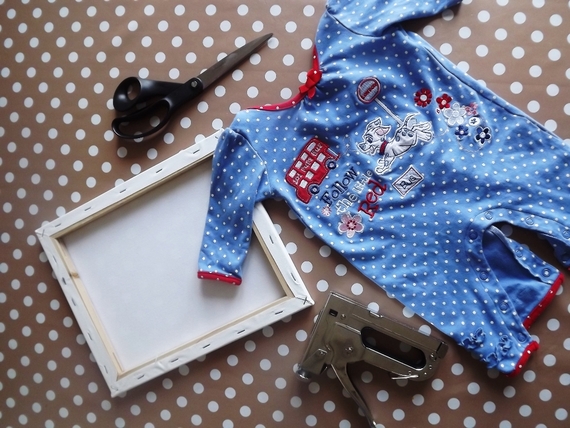 One of the many milestones of being a mum is clearing out your baby's wardrobe when they have grown out of each stage of clothes from the newborn stage to 3-6 months and so on. I have to say that I always find myself reminiscing and thinking back to a day or a family gathering or holiday when I remember my little girl wearing a certain outfit or even the person who gave it to her as a gift.
Instead of packing away your favourite babygrow or t-shirt etc, you can make a unique piece of artwork to hang in your baby's room that will forever give you fuzzy feelings when it catches your eye. This is really easy and you don't have to be in any way crafty to try this one out.
What you need:
1 x Cheap Canvas (Deals/Euroshop)
Staple Gun
Scissors
Instructions:
Measure out the size of your piece of clothing against your canvas.
If the babygrow or t-shift has a main picture or wording on the front position it correctly so that it is centred on your canvas.
Once you are happy with the positioning cut the back of the babygrow all the way down so you now have one flat piece of material.
Wrap your material around your canvas and again check the positioning until you are happy.
Stretch the material tight around the canvas and begin to staple one edge at a time.
Be careful as staple guns are very dangerous so best to do it when the kids are out of sight.
Once you have stapled down all four edges, trim the excess material.
And there you go- a lovely piece of art that you can display on the wall. It looks even better beside a picture of your little one wearing it.