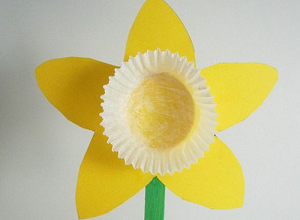 With spring just around the corner, it's time to get crafty and brighten up the house. What better way to add a splash of colour, than with some pretty DIY daffodils?
What you will need:
Yellow card
A pencil
Cake papers
A scissors
Glue
Green paint
Lollipop sticks
Method:
Using your pencil, draw an outline of a daffodil on your yellow card, then cut it out carefully.
Paint your lollipop stick in a bright shade of green to serve as your daffodil's stalk, and let it dry.
Take a cake paper and carefully apply a layer of glue to the bottom of the circular cake well at the bottom, then stick it onto the middle of your yellow daffodil petals.
Once dry, stick the green lollipop stick stalk to the back of the daffodil head.
Tip: Stick your DIY daffodils into flower pots to add some colour to your kids' playroom or bedrooms, just like these pretty pasta butterflies.
Images via Pinterest