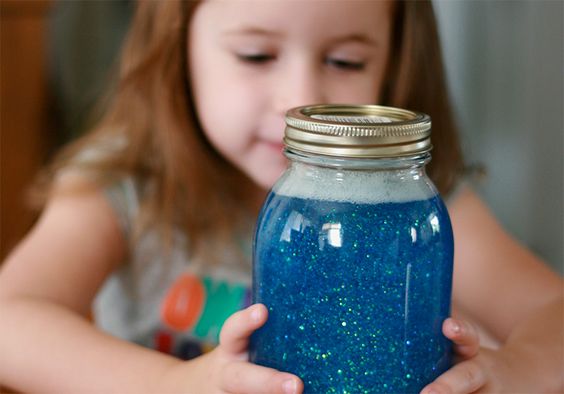 When things get hectic, we all need a moment of peace and a shift of focus. And what better way to soothe your soul or calm an anxious child, than with a glitter jar?
Magical i every way, the glitter jars are quick to create and can be used as a toy or for relaxation.
What you will need:
A clean jar or plastic bottle
A funnel
Glitter glue in assorted colours
Fine glitter and/ or chunky glitter
Food colouring
Water
Method:
1. Half fill the jar or bottle with water.
2. Add in the glitter glue and mix until combined.
3. Once the glue has dissolved, add in the food colouring, a few drops should be enough – otherwise you won't see the glitter.
4. Add your glitter, stirring as you go to check the consistency.
5. Fill up the rest of the jar with water, but don't overfill.
6. Pop the lid on and shake... now then watch the magic happen.
Image of child with glitter jar, Credit: Pinterest