Were you inspired by that imaginative kids bedroom from last night's Design Doctors?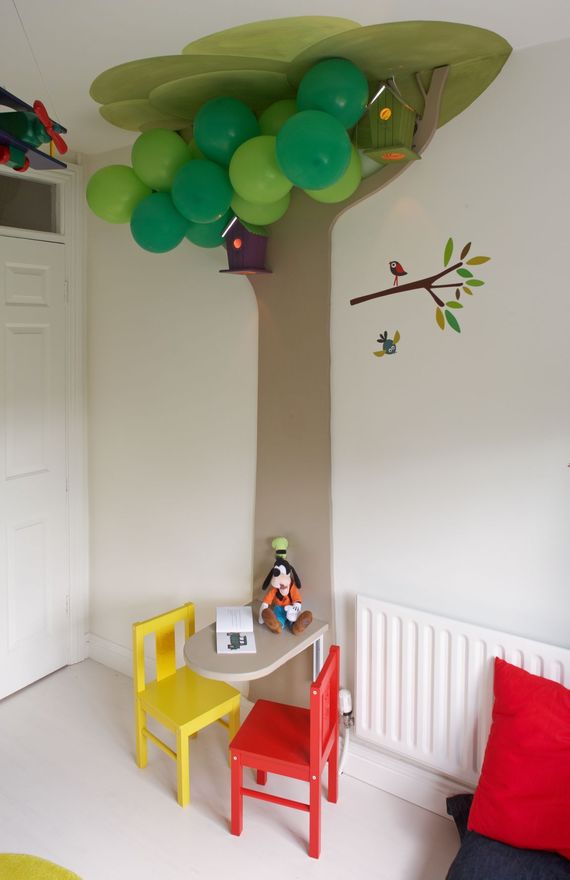 This week's episode was about designing a fun bedroom for toddlers and solving storage issues in a small space. We're taking a closer look at the colour scheme so you'll be one step closer to recreating the look for yourself.
The striking navy blue wall was a great idea and just shows that you don't need to stick with bright bubblegum colours when painting a child's bedroom. This colour is Ral 5008 and can be mixed in Dulux Easycare Diamond Matt for a tough finish for those sticky fingers
The funky ladder was painted in 20YY 39/130 and the red steps and storage unit were painted in 16YR 18/587. Both finishes are Diamond Eggshell from the Dulux colour mixing range
We also really liked the tree that was painted around the desk – it just shows how creative you can be with a lick of paint and a little imagination. The colours used for the mural are Chalky Downs 3 for the trunk and 70YY 37/296 for the leaves.
The chairs were painted in Dulux Diamond Eggshell 70YY63/326 (yellow) and 16YR 18/587 (red).
Check out
www.dulux.ie
for more hints, tips and How-to Videos to get the perfect Design Doctor look.