If there is one dinner that every mother can make it's spaghetti Bolognese. It's simple, quick, filling, tasty and kids love it.
So for all you mums out there who use Dolmio Bolognese sause (which is probably the majority of you) here is some good news for both you and your family. Dolmio have unveiled their 100% Natural recipe across their range of sauces. The new recipe uses 100% natural ingredients and is free from all possible hidden nasties like artificial colours, flavours and preservatives that us mums just hate.
Each jar is made with ten chopped tomatoes, freshly sliced onion, chopped basil leaves, crushed garlic, a splash of olive oil, a squeeze of fresh lemon juice, a small spoonful of sugar to sweeten the tomatoes, a touch of aromatic herbs and seasoning to taste. There are so many natural ingredients that a single serving of this sauce will make up one of your 5-a-day!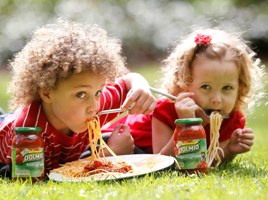 While us mums will no doubt prefer this recipe for our kids, Dolmio want the children of Ireland to decide for themselves. They are inviting children nationwide to put the recipe to the taste test through a 'Licked Plate' initiative. Over the coming weeks Dolmio are encouraging families to try out this new recipe for themselves.
Furthermore, Dolmio are teaming up with the Baz and Lucy Breakfast Show on 2FM this coming Saturday 16th and Sunday 17th April, so listeners can tune in to be in with a chance to win family holiday to Italy's Eternal City, Rome.
Put new Dolmio 100% natural to the test with your family this week. Tune into 2FM's Baz and Lucy Breakfast show on Saturday 16th April and Sunday 17th April.