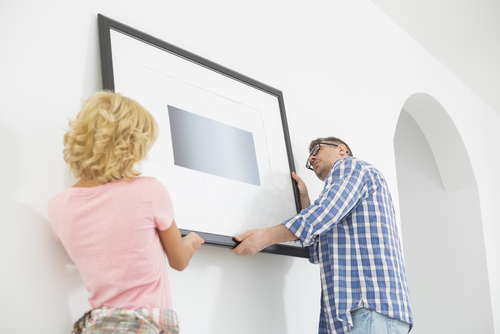 You don't need to hammer a nail into your beautiful walls to hang pictures or shelves; the right adhesive can do the job for you and stop you having to put holes all over your house.
You know those sticky back pieces of white squares that you can buy in the shops, well there are plenty of uses for them.
Picture frames
There are plenty of adhesives available specifically for hanging picture frames. Strong and durable, they are perfect if you are renting your house or if you are always changing the room around.
Keeping things neat and tidy
You can keep wires and cables against the wall by placing it between two adhesives and securing it against the wall. Great for preventing risk hazards without having to use a staple gun or nails.
Hanging towels
An adhesive with a hook on the front is great for hanging tea towels or even bath towels in the bathroom and the kitchen.
Keeping mirrors in line
There is nothing worse than trying to look in a mirror that is leaning to one side. Instead pop a little bit of adhesive on each corner and press against the wall.