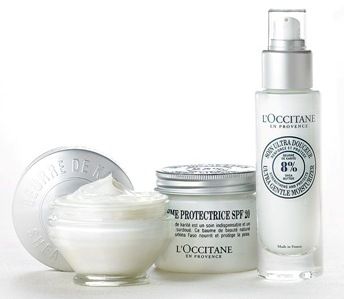 The winter is finally drawing to a close, and your skin could now be showing the effects of the cold weather. Shea butter is famous for its protective and nourishing properties and is the ingredient you should look out for if you need to repair dryness caused by the cold winter.
The new L'Occitane Shea Butter range boasts an exceptional concentration of shea butter. These new products are rich in vitamin A, antioxidant vitamin E and fatty acids that help strengthen cell membranes, leaving skin soft and perfectly nourished.
L'Occitane has included two unique active ingredients at the heart of the range, providing dual protection for the skin: the shea better concentrate and a combination of natural sugars. The shea butter effectively fights all factors responsible for skin dryness and provides a protective barrier over the skin. The natural sugars reinforce the skins ecosystem, so the skin can shield itself against damaging climatic factors.
L'Occitane Shea Butter range includes:
Ultra Rich Face Cream 50ml (€36.95) for intensive care of dry to very dry skin
Protective Cream SPF 20 50ml (€36.95) provides daily sun protection for dry skin.
Ultra Gentle Moisturiser 50ml (€31.95) is ultra gentle, hypoallergenic and fragrance free. This new formula provides strengthening and soothing care for normal to dry skin, including sensitive skin types.
100% Pure Shea Butter 8ml (€8.95) has all the benefits of pure shea butter in a small, practical tin.
The Shea Butter range will launch in L'Occitane stores nationwide from 23 January 2012.