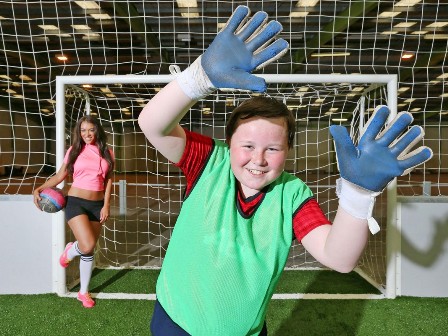 Here at MummyPages, we like to keep all our mums up to date with all the best summer activities to keep the kids active and entertained. With this in mind, if you've got football fanatics at home, then Dublin Indoor Football would be perfect for both kids and adults. It's Ireland's first ever custom designed, 43,000 sq ft indoor football facility, providing 4 state of the art pitches.
The venue is conveniently located at Airways Industrial Estate Dublin 9 and is easily accessible from the city Centre, Dublin Airport and the M50.
The indoor pitch utilizes the very latest form of synthetic turf technology; each pitch has been designed with a playing surface that simulates the response of natural grass, with no infill, no sand, no rubber, just clean safe play.
Shock absorbers also help to protect against injuries normally associated with outdoor pitches and, most importantly, with a roof over their heads, the players stay dry. For adults who are looking to play competitively in league matches a referee and score keeper are available (subject to booking) to ensure your game runs smoothly.
Pitch hires are available everyday for either your one-off game or regular weekly match, suitable for 5 & 6 a side adult play and leagues.
This unique venue also provides a suitable environment for school tours, summer camps and children's parties, with two party rooms, holding up to 20 children in each. For those who want to sit back and take in the atmosphere, there is a comfortable viewing gallery with seating, making the Dublin Indoor Football facility a place for everyone to enjoy.
Open seven days a week from 7am to midnight with bookings placed online, this first class sporting experience is set to become one of Dublin's hottest new venues for football playing fanatics.