We are teaming up with Dulux and RTE's Design Doctors to show how you can beautifully redecorate your home for a fraction of the price.
In the first episode of Design Doctors, the team had to blend two styles to create a look both husband and wife are happy with.
Sam's home was built by her husband Brendan six years ago, with her moving in two years after the build. Brendan had already finished most of the décor, and a lot of it wouldn't have been Sam's first choice. For this reason she had hit a wall and didn't know how to continue the styling of the house throughout. Working from home as a beautician, Sam was ever aware of the unfinished home and said the unfinished spaces were starting to stress her out.
Because the couple had two very different aesthetics, with Brendan liking more masculine pieces such as leather armchairs, and Samantha having a passion for pastels, the designers needed to work hard to create a look that both Samantha and Brendan were happy with.
With dramatic high ceilings, the hall and office were crying out for a cozy finish, but with Samantha's fear of dark colours, the designers had their work cut out to gain her trust.
Thankfully, the designers created a fabulous
décor
that both husband and wife were delighted with.
A striking and statement purple was used in the hallway whilst a warm and inviting colour palette was used thoughout the reading room.
Hallway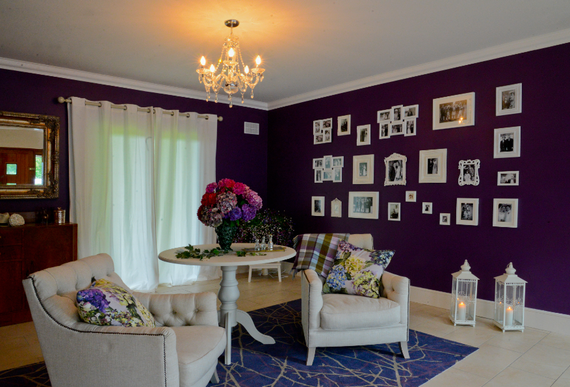 Why not give a room in your home a refresh using this beautiful colour and design theme. You can easily recreate this look in your own home and completely update a room with a striking colour like this and a few key accessories. See how to get the look for under €400.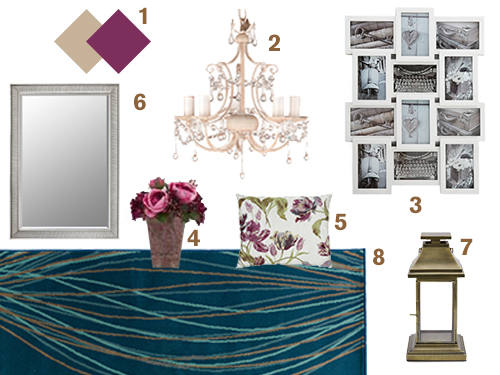 1. Wall: Dulux Signature Collection – Tokyo Flag – Vinyl Soft Sheen 2.5L RRP€31.50
Skirting: Dulux Signature Collection – Tokyo Flag – Diamond Eggshell – 2.5L RRP€40.99
2. Chandelier: Chella Cream Beaded Pendant Chandelier £45.00 – Laura Ashley
3. Photo frame: White Photo Frame €10.00 – Dunnes Stores
4. Flowers: Plum Floral Mix in Vase €27.00 – Next
5. Cushion: Gosford Floral Embroidered Cushion £33.60 – Laura Ashley
6. Mirror: Songe Mirror €125.00 – IKEA
7. Lantern: Brass Effect Square Lantern £24.50 – Laura Ashley
8. Rug: Malin Blad Rug €35.00 - IKEA
Watch Design Doctors on

RTÉ One, Thursday at 8:30pm