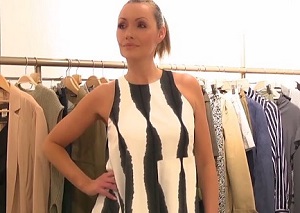 With the winter days now well and truly behind us, it's out with the old and in with the new, and when it comes to our wardrobes, Dundrum Town Centre has you spoiled for choice.
MummyPages' reporter Niamh Geaney recently met with celebrity stylist Colm Corrigan, who showcased a selection of the stunning pieces that fashion-hungry shoppers are guaranteed to go mad for this season.
Picking up on the new season's hottest trends, the Dundrum Spring/ Summer '15 collection has something for absolutely everyone.
With a focus on dressing the 'real woman', the new-season collections focus on a minimalist, pared-back style that is perfect for the warmer days ahead.
Stand-out trends featured in the latest collections include the relaxed, full-frontal denim look, as well as beautiful blush tones. The khaki military and '70's charm' looks are also set to be a hit this season, with suede fabrics and prints making a very bohemian statement.
With a range of clothing and accessories to suit women of all ages and tastes, a trip to Dundrum Town Centre is definitely one for the to-do list this month.
Check out the video below to get a peek at the beautiful new range.