Being a mum with young children is a messy job, between cleaning up after cereal bowls that are spilled on your just clean floor, mud being dragged in from the garden and tramped all over your rug and as soon as your back is turned, you just know the dog will be jumping all over your fabric sofa. Having to drag the vacuum cleaner out of the press several times a day is an unappealing task at best. However, In a bid to make life easier for families with young children, Dyson have engineered a revolutionary new range of handheld vacuum cleaners that are lightweight, portable and durable making all the little clean-ups seem effortlessly easy.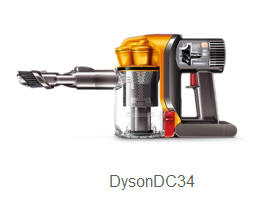 Dyson DC34
The Dyson DC34 is ideal for dealing with tougher spills and can easily be brought to any room in the house as it is lightweight and cordless. The DC34 delivers 15 minutes of powerful, constant suction which totally eclipses any other product on the market. It also has a lithium-ion battery which recharges up to 3 times faster than any other battery meaning it's ready to go the next time you need it.
Dyson DC34ANIMAL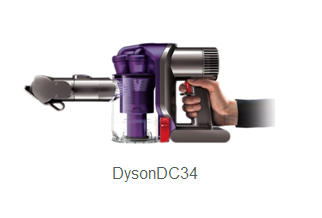 This vacuum cleaner is a godsend for anyone who has a pet that seems to endlessly shed leaving a trail of hairs all over the house. This vacuum cleaner has a runtime of 15 minutes or 13 minutes if you have a powerful motorised brush bar that when attached removes pet hair and ground-in dirt. This vacuum cleaner also has a boost mode which gives 6 minutes of extra suction for tough cleaning.
The DC34 Animal is powered by the Dyson digital motor and also boasts Dyson's incredible Root Cyclone tm technology meaning it won't lose suction.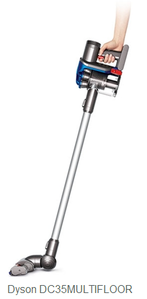 Dyson DC35MULTIFLOOR
This model is incredibly versatile as it boasts tools for every type of floor, cleaning tiled floors, carpet and wooden floors with ease. It also cleans up top, down below and in-between meaning you can clean all those hard to reach places. It is powered by a Dyson digital motor with Root cyclone meaning it doesn't lose suction and it has a run time of 15 minutes or 13 with the floor tool attached.
Dyson DC35ANIMAL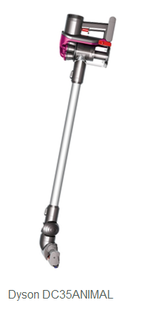 For families with a cherished pet, the DC35 Animal not only cleans up top, down below and in-between but it also features an extra tool designed to easily remove pet hair. This motorised floor tool attaches with ease to the wand meaning you can easily clean ceilings, floors and everything in between. This vacuum cleaner is unbeatable when it comes to getting into hard to reach corners and crevices. It lasts for fifteen minutes which is more than enough time to clean your living-room and kitchen from top to bottom.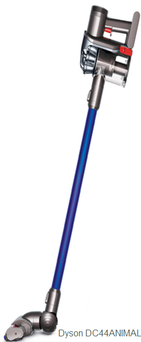 Dyson DC44ANIMAL
The DC44ANIMAL is the latest Dyson vacuum cleaner. It is slim line which means it takes up as little space as possible and can be stored easily. It can be used on any surface from wooden floors to tiles to carpet and the motorised cleaner head has twice the power of the original DC35 cleaner head. The brush bar has carbon fibre filaments which effortlessly work to remove the smallest of dust particles and pet hair from surfaces. This model also gives 20 minutes of powerful, constant suction making it the most powerful cordless vacuum on the market.
All these products are available from Harvey Norman.
Click here
to visit their website.