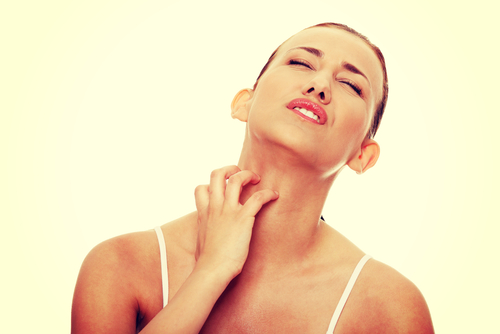 Not only does your skin feel drier, look a little duller and feel tighter during the winter months, but you can also experience blotchy patches caused by the cold, especially if you already suffer from eczema.
There are a number of types of eczema: contact dermatitis, which flares up when touched by certain substances, or atopic eczema, which is caused by your genes interacting with certain environmental factors. Unfortunately atopic eczema which can be made worse during the winter months due to the skin drying factors, but thankfully there are a few things you can do.
What causes flare ups?
Eczema flare ups happen because your skin in unable to retain enough water to keep it hydrated. During the winter constantly moving between cold and hot air can dehydrate our skin even more.
How to deal with it
The most effective way to help your skin is to reduce using anything drying. This means avoid washing with soaps and use products and creams with a balance PH.
You should also skip the hot shower which can remove your skin's natural oils.
Start taking fish oil supplements which can help repair the skin barrier.
Primrose oil is also great for giving your body essential good fat.
Use an oil based moisturiser to keep your skin hydrated.