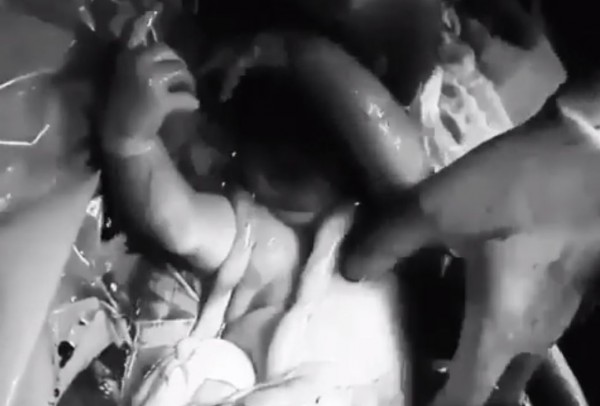 We've all watched One Born Every Minute and seen the miracle of birth play out before our very eyes, from a totally different angle! But how often do we get to watch an en caul birth in action? Well, given that it occurs for every one in 80,000 births, the answer is not that often!
This is why we – along with thousands of people all over the world – are in awe of the latest video shared by the team behind the Female Wellness Instagram account.
The video shows a baby being 'unwrapped' after being born en caul – or with its amniotic sac still fully intact.
The black-and-white footage shows the baby, still inside his sac, being held in the doctor's hands. He waits a moment before opening the sac, to the show the newborn tot's little hands moving around inside.
"This little guy is seen still breathing through the mother's placenta!" the caption reads.
Then, the hands carefully pierce the thin mebrane of the amniotic sac, unwrapping it to give the baby his first breath of air from the outside world. It is just mesmerising to watch.
If you ever wanted to know the ins-and-outs of an en caul birth, then you will find the video's caption really interesting. The Female Wellness team explains what happens during an en caul birth and why they occur.
"It has been suggested that en caul C-section deliveries might be advisable for extremely fragile premature babies," they write, explaining that there have been cases where tots born en caul have survived up to 25 minutes of 'extra uterine life' inside the intact sac. Wow.
"Seeing moments like this captured can really put the blessing of life into perspective for all of us!" they added. We couldn't agree more.
This is just one of a number of amazing videos of en caul births doing the rounds online.
Last year, we were all-amazement as a woman named Jasmine Perez shared an incredible piece of footage on Facebook. In it, the baby emerges into the world fully en caul, and can be seen moving its limbs around before the doctor pierces the sac with a scalpel.
The video has clocked up over 26 MILLION views – and we can completely see why. It's not often that we get to witness such a rare and beautiful phenomenon.
Be sure to share this video with a fellow mum or mum-to-be, to remind her of the amazing miracle of birth and life.