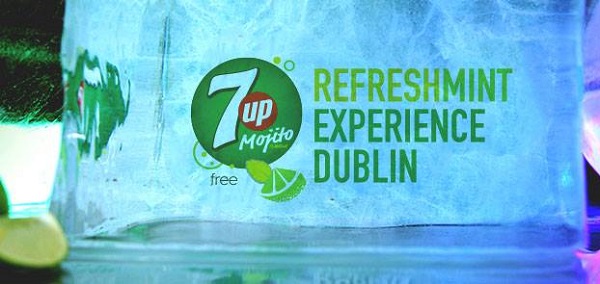 There's nothing quite like popping open a can or a bottle of ice-cold 7UP on these hot days, and fans of the beloved drink are in for a real treat this summer.
To celebrate the launch of its delicious new flavour, 7UP Mojito Free – the perfect combination of lemon, lime and mint – the much-loved brand is bringing Ireland's first ever sub-zero experience to Dublin!
Visitors to the 7UP Mojito Free RefreshMINT Experience will get to try out the new flavour in the ideal setting, in Sir John Rogerson's Quay; from Thursday, 26th May to Monday, 6th June.
A lone fridge-door entrance leads into the RefreshMINT Experience, which last for 30 minutes per session. Once you're inside, you'll be kitted out in a frost-fighting suit and sent off to enjoy a mint-infused ice tumbler of 7UP Mojito Free while you check out the graphic ice projections.
The Experience will run from 12:30pm to 8:30pm each day.
Booking is required for entry to the event, and spots are limited, so be sure to check out Eventbrite, through this link, to secure your place.
We can't think of a better way to cool down with friends this summer.
SHARE with a friend who would love to try out the 7UP Mojito Free RefreshMINT Experience.