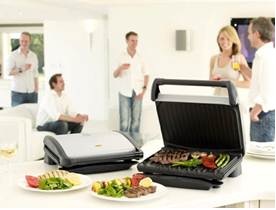 The weather may not be encouraging BBQs this summer, but why not entertain indoors and create some summer spirit.
The 7 Portion Grill from George Foreman (RRP €99.99) has a seriously large grilling surface so it is ideal if you are having a few guests over. The extended handle allows for ease of use, and mums will be delighted to know that the non-stick grill plate makes cleaning much easier.
The 4 Portion Grill & Griddle (RRP €89.99) has two cooking surfaces with independent variable temperature controls. This is a great piece of equipment for creating a delicious Sunday breakfast for the family. You can use it to grill your meat and griddle your eggs. Or if you are preparing a Sunday roast, you can grill your vegetables and meat on this handy appliance.
Both grills feature:
Non-stick grill cooks from top and bottom at the same time for fast, even grilling results.
Floating hinge so even the thickest food can be evenly cooked
Slope grill design channels fat and grease into separate drip tray
George Foreman Grills allows you to cook your favourite foods in a healthier way. They are ideal when you have guests over as you can prepare food in a fraction of the normal cooking time. By grilling from both the bottom and the top simultaneously, food cooks over twice as fast. Unwanted fast and grease melts away into the drip tray, so your food is much healthier.
These George Foreman grills are available from all good electrical retailers nationwide.