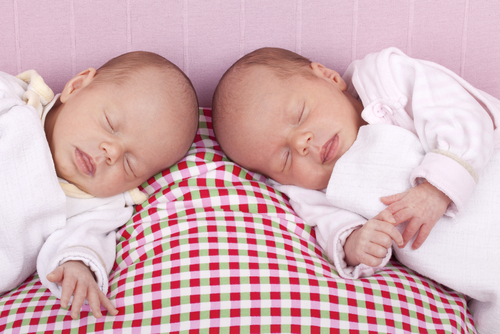 Being woken up in the middle of the night after just getting back to sleep is tough with one child but add another one of the exact same age and it's a different story. However, before you despair and pull out your hair, there are certain things that you can do to make it a lot easier on you and your newborn babies.
The same feeding schedule
Keep them both on the same feeding schedule as this will increase the possibility of them falling asleep at the same time. Try to avoid feeding one and putting them to sleep before moving on to the second child.
Let them share a cot
Until one or both babies starts to move or roll over they can share the same cot. This will mimic the womb where they shared the same space for nine months and will help them feel secure and more at ease, helping to bring on sleep.
Be consistent
Like you would with one baby, try to keep a consistent schedule. This means feed, change, play, naps and bed at the same time each day.
Don't rock them to sleep
Avoid getting into the habit of letting your babies fall asleep in your arms or rocking them to sleep in their crib. They will just become accustomed to this and they will find it difficult to go back to sleep on their own. Wait until they look like they are about to nod off and pop them in their crib or simply put them down at exactly the same time each day so they know when to sleep.
Don't be afraid to be noisy
Your babies are used to noise from being in the womb so don't be afraid to put on the vacuum cleaner when they are awake. Avoiding noise will mean that your little ones will become used to silence and when there are unexpected sounds they will wake up.
Work with one at a time
Twins won't have the same temperament so if you do have one who is a little fussier put the less fussy one to sleep first. This way you can focus on the other baby.
When you have two babies to take care of, it can often seem like you have just put one down and another one wakes up - hang in there though, it won't last forever.