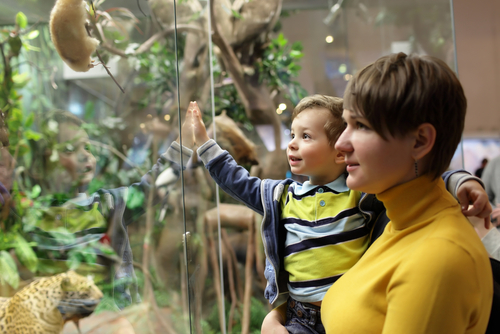 Visiting a museum is not usually at the forefront of a mum's mind when on a summer holiday, but these kid-friendly ones definitely deserve a visit if you are ever in their vicinity.
National Football Museum, Manchester
Its vast collection includes memorabilia, player profiles and football kits. There are special areas where children can dress up as footballers and listen to stories of teams' triumphs.
The Acropolis Museum, Athens
Here families can borrow backpacks from the museum that contain games and quizzes about subjects such as the goddess Athena. They also have special 3-D screenings of Acropolis in Antiquity for older kids.
Riverside Museum, Glasgow
The first thing you will notice about this museum is the amazing zigzagging, zinc-clad roof. Inside you will be treated to vintage car displays, bikes secured to a suspended velodrome and even a ten ton railway engine hung over the edge of a mezzanine.
Dalí Theatre-Museum, Figueres, Spain
With giant eggs and bread rolls adoring the exterior of the red castle, it is most certainly an eye-catching building.
Grande Galerie de l'Evolution, Paris
Inside kids will be treated to a parade of animals from giraffes, snakes, elephants, rhinos and even a 20 ft long giant squid. With over 7,000 species on show animal-lovers will find this a truly interesting museum.
The Little Museum of Dublin, Dublin
Located in an 18th Century Georgian townhouse, this museum is both child-friendly and visually appealing. With plenty of worksheets available for kids of all ages and interactive artefacts, they will certainly learn a thing or two before leaving.