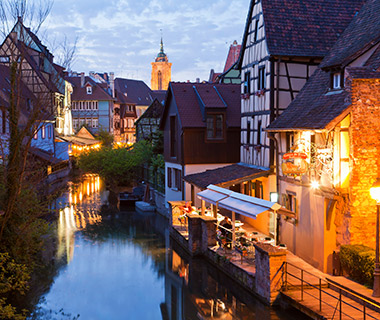 If you want your travel experience to be full of old world charm and unexpected beauty, consider choosing from these postcard-perfect villages fanned out across Europe.
Albarracín, Spain
A precious strand of medieval Spain has been preserved within the fortified walls of this village, which is surrounded by the barren hills of the central Aragon region. Down Albarracín's narrow alleys and winding lanes await ancient stone towers, castles and chapels. Towering above it all is a cathedral built in the region's typical Mudéjar style with ornamental detailing rooted in Islamic art.
Pučiśća, Croatia
The buses and cruises that stop along Croatia's sunny Dalmatian coast deliver tourists eager to experience the charms of Dubrovnik and the ancient island village of Hvar. Fewer visitors find their way to Pučiśća on the island of Brač. The reward is a seaside village with outsize appeal: white-stone villas with terracotta roofs, narrow cobblestoned alleys, and a stone-paved square. Bask in its relative solitude and the many prime spots for swimming in the turquoise Adriatic Sea.
Reine, Norway
North of the Arctic Circle, Reine is a pretty fishing village in the Lofoten archipelago, an area of starkly beautiful Nordic wilderness, where sapphire bays punctuate fjords and mountains. Many of the bright red fishermen's cabins have been converted into comfortable cottages for visitors that offer direct access to the Norwegian Sea. Settle in for a front-row view of the night sky and its mesmerising entertainment, from summer's midnight sun to winter's northern lights.
Bibury, England
The hilly Cotswold region is a designated "Area of Outstanding Natural Beauty" and one of its most charming villages is Bibury. The River Coln, which bisects the village, teems with trout, but the most scenic area is Arlington Row, a lane of cottages built in the 17th century to house weavers from the nearby Arlington Mill.
Hallstatt, Austria
The storybook town of Hallstatt in central Austria enjoys a gorgeous setting on the bank of the Hallstätter See, between the pristine lake and a lush mountain that rises dramatically from the water's edge.
Colmar, France
French and German influences commingle in this well-preserved Alsatian village, where local bakeries sell both croissants and kugelhopf, and restaurants specialise in foie gras and sauerkraut. A range of architectural styles, from German Gothic to French Neo-Baroque, can be spotted in the old town, which was spared destruction during World War II.
Tellaro, Italy
A jumble of pastel buildings cling to the sheer cliffs of Tellaro, which occupies the easternmost tip of the Golfo dei Poeti. It's named for the poets and literary icons like Lord Byron and D. H. Lawrence who have sought inspiration in this Mediterranean haven.
Cong, Ireland
The picturesque village of Cong straddles the border between Co Mayo and Galway. Cong counts numerous stone bridges, the ruins of a medieval abbey, the occasional thatched-roof cottage, and Ashford Castle, a grand Victorian estate that has been converted into a romantic luxury hotel. Tourists also flock to visit the village where iconic film The Quiet Man was shot.
Image via Pinterest.