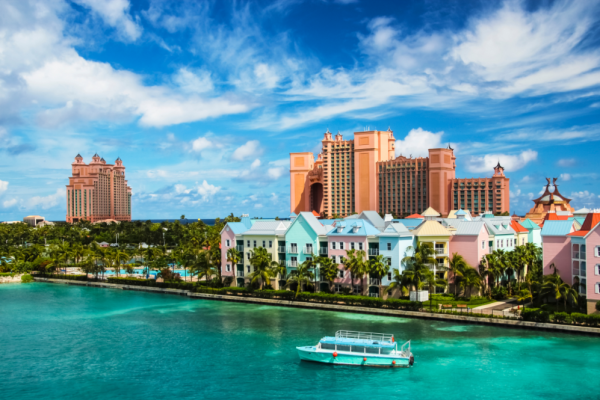 The land of swimming pigs, pirates and crystal clear water!

About the country

The Bahamas is celebrating 45 years of independence this year, it was formerly part of the British Commonwealth. Britain clamped down on piracy in the country in the 18th century, but the country remains infamous for smuggling to this day. Located at the edge of the Bermuda Triangle, it embodies Caribbean perfection as a mass of blissful islands emerging from the sea.

It is an archipelago of over 700 islands, not including its 2000 coral cays, but only 14 are inhabited. Tourism makes up almost half of the nation's economy, making it one of the only 50 countries in the world where tourists outnumber the residents!
First of all, is it expensive?

It certainly isn't cheap, but there are ways to easily cut costs, such as travelling off-season or giving some of the majorly exclusive tourist activities a miss. You would need minimum $1000 for a two week stay, not including flights! It's the third most expensive country on earth to reside in.

How can I get there?

Flights from Dublin to any of the main islands range between €500-€900, depending on the time of the year. It's significantly more economical to fly outside of the summer season, and flying to private islands is more costly, but lavish!



What are the best islands to go to?
Each island is its own treat for the senses. They are full of movement, smells, sounds, colours and have world famous colonial style Caribbean beach hotels, and exemplify tropical paradise.

Andros is the largest island, and has hugely varied terrain. Long Island is geographically dramatic, and is home to Dean's Blue Hole, the biggest swimming sinkhole in the Bahamas. Cat Island is the location the highest mountain in the nation, and is a prominent destination for travellers.

The island of Grand Bahama is where all the popular beach resorts are, but prepare to see thousands of American tourists from the nearby Florida state. Other islands include: Exhumas, which is perfect for island hopping, Eleuthera, Paradise Island, Harbour Island, Inagua and the illustrious Abaco islands.

The Abaco islands are home to some of the most renowned diving, sailing and snorkelling spots in the Bahamas. The only place which is slightly unsafe for tourists is New Providence Island, where criminal activity has spiked in recent years. Sadly, this includes the capital of Nassau, where most crimes occur in the downtown areas.

If you do decide to go to Nassau, stay in the resort areas only. The parts which do not include the resorts have warnings issued by the US State Department.

The beautiful Out Islands are the best option for tourists, they have all the most legendary accommodation spots, water activities, and stunning beaches the nation has to offer.

What accommodation spots do you recommend staying in?




Accommodation in the Bahamas ranges from high end resort hotels to peaceful private islands to isolated beaches and gorgeous guesthouses. There are very few hostels on the islands, but Airbnb is a great option, seeing as budget hotels even cost minimum $90 a night. You can also rent some exquisite apartments as a cheaper option than a resort hotel.

When looking for a hotels or resorts to stay in, The Big Game Club is an attractive five star offering in North Bimini. Coral Sands and the Runaway Hill Club are two stunning beachfront hotels on Harbour Island which are admired by travellers from all over the globe. There is also a small Couchsurfing community, which is much more low-priced form of accommodation if you are on a tight budget. Camping on the beach is an alternative choice.

If you are on a couples getaway, Chez Pierre on Long Island are a group of adorable rustic style bungalows on a deserted beach. We guarantee that you won't find anywhere else as romantic! There are some absolutely stunning rental houses in the Bahamas, you'll be so glad you had this experience, trust us.

For a family trip, the capital of Nassau is home to The Cove Atlantis: a massive family resort with its own cinema, casino, beach, water park and essentially every activity you can imagine. Your kids will never be bored! The Graycliff Hotel is an alternative option for staying in the capital, with two pools, a range of glorious gardens, a cigar factory, restaurant and wine cellar, as well as sun terraces.

An impressive option on Cat Island is Fernandez Bay Village, 18 beachfront cottages with direct access to the beach, the Tiki Bar and a private patio. Greenwood Beach Resort on Cat Island is an idyllic hotel with tropical style rooms in a secluded but blissful area on the beach.

On Grand Bahama, try staying in the Bell Channel Inn, it's a bright pink hotel on the beach and is cheaper than most hotels of the same standard.
What is the best way to get around?

Renting a bike will save you from using the expensive taxi services. For just $20 it's great value, and is much safer than renting a car.
In terms of taxis and minibuses, the popular 6 BSD water-taxis are a fun experience and cheap as well! Inter-island flights are an efficient and affordable option if you are doing a large-scale trip around the main parts of the Bahamas.




Food and Drink

Drinking rum is far cheaper than any other form of alcohol on the island. Another exception to the expensive alcohol prices is local beer!

Most food is imported to the Bahamas as the country grows very little, and is therefore highly expensive, but cooking your own food would cut some of the costs.

Eating locally is one of the cheaper things to do, Westernised dishes cost up to $25 per dish, whereas local fish food is more in the $10 range.

Some of the best restaurants include Café Matisse, which has the greatest Italian food in the Bahamas.

If you visit Xuma's Restaurant and Bar on the private island of Highbourne Cay, the chef will prepare whatever fish you caught that day. Max's Conch Bat and Grill for a casual, affordable and quirky roadside restaurant in Long Island. There are licence plates from all over the world on the ceiling, plastic mermaids, stuffed monkeys, paper currencies and knick-knacks also feature!

The Chat 'N' Chill beachfront restaurant on Stocking Island is also great for lounging on the beach and local cuisine. Definitely try the rum punch parties, cocktails, and local fish dishes, and don't leave without having Sky Juice: a Bahamian classic cocktail made from gin and sweetened coconut water.

'Sip Sip' on Harbour Island's pink sand beach has ideal cocktails, you won't want to leave.

Check out Tru Bahamian Food Tours. The notable three-hour venture includes some stops at the finest hole in the wall eateries off the beaten path. We recommend trying some of the country's trademark fried conch- a Bahamian speciality.

Things to Do
One of the best things to do in the Bahamas is to explore the magnificent underwater cave system, in gorgeous clear turquoise water. Explore the white sandy beaches, lounge by the ocean and play beach volleyball. You can even feed the stingrays!

Discover the palm savannahs, tropical forests and cliffs around the islands. There is also literally every water-sport known to mankind to try, as well as swimming with the aquatic life such as turtles, manatees and dolphins.

The aquarium at the luxurious Atlantis Paradise Island resort has a total of 14 lagoons, eight million gallons of water and more than 50,000 aquatic animals from 250 species, not to mention a giant waterslide running down the centre.
Don't forget to bathe with the pigs! Major Cay, otherwise known as Pig Beach- is renowned for its pig residents who laze in the shallows all day (posing with tourists, no doubt)


Go and see the Pompey Museum of Slavery and Emancipation- smuggling and servitude were a major part of the country's identity until 1838, when slavery ended. The British founded Nassau in 1650 and it became the historical spot where Blackbeard the pirate challenged British rule.

The capital is overflowing with fun pirate forts and museums, and a huge open-air aquarium, don't miss out! You can also visit San Salvador to find more history, the place where Christopher Columbus allegedly stopped in 1492 when he entered the West Indies.

Climbing Cat Island's Mount Alvernia is a must, the mountain is topped by one of the best scenic monasteries in the world. Jumping into Dean's Blue Hole, the world's second deepest blue sinkhole, is another popular spot for having a unique experience. It's a famous place to go diving and the location is surrounded by cliffs for those brave enough to leap off.


Other things to note
-Currency= Bahamian Dollar (BSD), which is a ratio of 1:1 to the US dollar, which means you can spend American dollars freely there but will most likely receive Bahamian dollars in return.

-Gambling is legal for non-Bahamians visiting the islands

-Language= Everyone speaks English in the Bahamas, but their own colloquial type of creole dialect

-Be careful if you decide to visit on a family holiday during the March-April time of year, this is when the massive influx of US students come down for Spring Break to party!

-Tipping around 15% is the norm, but most of the time a service charge is already added to your restaurant bill

-Uber only runs in Broward and Palm Beach, and all cars drive on the left hand side of the road

-You may be required to show your return plane ticket before entering the country

-Negotiate rates up front with taxis, minibuses etc, most of them don't run on meters so it's easy to get scammed!

-Make sure the watersport equipment which you rent is in proper working order, as watersports in the Bahamas are not regulated

-Bahamian people are very formal in how they address you, they normally refer to you by your last name and shake your hand; you should do the same in return.

-June through to November is hurricane season, so make sure to check weather reports and talk to your airline to avoid your flights being cancelled due to bad weather.

-The tap water is safe to drink, but avoid unpeeled or uncooked fruit and vegetables in case of tummy trouble.

-The people are known for their politeness and friendliness, the best way they can get to know you is by sharing a meal with you.

-Dress formally in the restaurants and if you are invited to dinner, dressing informally in the Bahamas is often misconstrued as a lack of respect towards your hosts. Watch your table manners too, they take dining very seriously.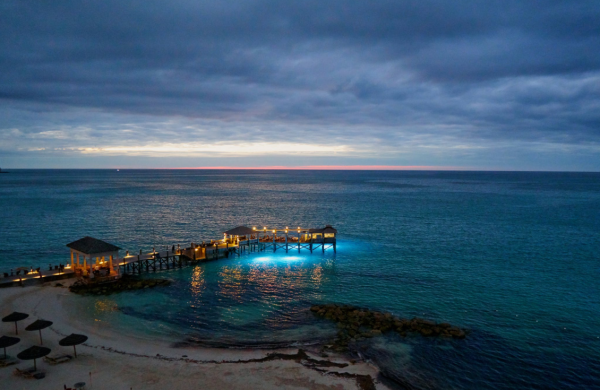 Enjoy your trip to the most beautiful place on earth. Leaving that oasis will be tough!