The quest for a decent, fun-filled day out with the kids is often hard to find. Many of the popular family days out are outdoors which means they don't really kid friendly unless the sun is splitting the sky. So, when we stumbled across the opening of Explorium in early January, we put it on our mid-term list of must-dos, and we weren't disappointed.
Housed in the completely renovated Total Fitness gym premises on the Blackglen Road, Sandyford the first thing you'll notice is the exceptional view over Dublin as you walk from the ample car park to the building entrance.
Explorium is huge (it's 100,000 square feet) and because of this, it's split into three different experiences (Science, Sports and Junior) with a variety of things to do for each member of the family. On the day we visited, we booked the Science Experience and also did caving too.
We kicked off with caving which was one hour of fun for the kids to enjoy whilst mum had a leisurely coffee break. This is booked separately as are the two climbing experiences – the urban climb and conquer your fears. I know this may seem a little complicated as you don't know which one the kids will want to do, but it's worth it – it gives you a blocked off time to just rock up and join the crew that you are climbing or caving with at that time.
They recommend allowing a minimum of three hours for the Science Experience and it isn't hard to see why. There are two endless floors of fun, education, engaging science wonders and activities to figure out. Within the science experience, there are a plethora of sections for the kids to explore. On the lower ground floor, one of our favourites was the G-Force bike (which if you are lucky enough to be over 12 years of age, you can cycle in loops.) There is also a lie on a bed of 3,000 nails and a small 'Maker's Lab' where the kids can make and do.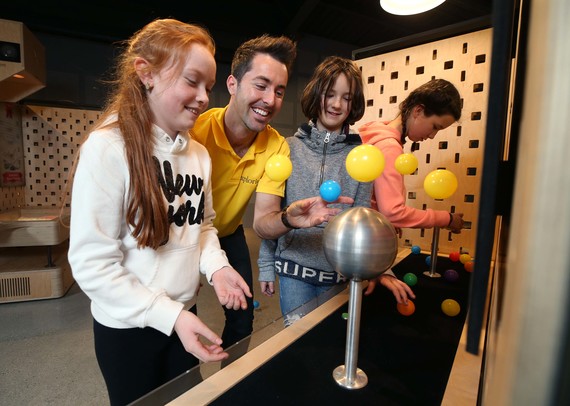 Upstairs, there is a huge array of science experiments which tested the kids (and mum too!) Despite it being mid-term, we wandered through without too much queuing and only ever encountered one or two kids waiting in line ahead of us. That illustrates how many activities there are to do. And even if there is a wait, it's easy to move to the next activity and to then wander back to the one you missed. We made smoke clouds, played with magnets and even made bubbles in water. There are definitely a few moments when one might feel queasy - the gravity room is one such example, where you get to experience what walking on the moon is like for astronauts. There are also upside-down rooms too, which was a big hit with the kids.
During our time, we also got to read and record the news, do a walk-on part in a movie clip and even walked the red carpet.
Three hours isn't really enough time to get the most out of the experience. We'd recommend doing an hour or two, stopping for lunch in one of the many restaurants or snack bars and then recommence for another hour or two of fun.
Unlike many days out, Explorium will entertain both adult and child alike. On the day that I was there many parents spoke of the cost so let's cover that whilst we are on the subject.
It's €28 for each person to do the Science Experience and €15 per person for caving or each of the climbing experiences. The other costs include whatever you eat on the day and parking is paid for too. So, it definitely adds up but my advice to anyone going to do it is to do it as a full day out – i.e. sweat the cost over a full day. Don't go for a few hours – really figure out your plan in advance to spend the entire day there. The other way to save on the cost is to visit at an off-peak time which reduces the cost of entry.
We didn't make it to the Junior Section as it is for under 8s although the happy faces that were coming out of the area made it seem like a real hit.
The Sports Experience includes sports simulation such as Formula 1 car driving, beat the robotic goalie, demolition golf and multi-sports simulator which will keep the sports fanatics entertained.
There is an individual charge for each sport and the same applies for each VR experience you undertake. On the day we visited, we also spent time in the Virtual Reality room. It's a fully immersive VR experience which has over 100 rides and experiences. We tried out parachuting in the Egg Pods, the Rollercoaster and Super Racing – all were great fun and left the kids wanting more.
Explorium is a world class day out – it isn't cheap but when you consider all that can be done whilst you are there, it's well worth the investment for a day out with the family which the kids will never forget.