Being afraid of the dark is fairly common in children as their imagination tends to run away with itself once they reach the toddler years.
And while most will eventually grow out of the fear over time, for those who are frightened now it can really affect their ability to fall asleep or even feel comfortable in their own bedroom.
While it is important to show your child that there is nothing to be scared of, there are a few things you can do to make their room feel more comfortable and welcoming.
1. Fairy lights
Creating an ambience and cosiness, the lights actually act as a sort of nightlight to help your little one relax into sleep. We love these gorgeous ones from Just For Tiny People – so pretty.
2. Floor cushions
Make their room a place where they feel comfortable and therefore want to spend time in; the more at ease they feel in their bedroom, the better for helping them sleep. Floor cushions are great at creating a relaxing environment, and the soft underfoot can be quite comforting, especially in the middle of the night.
3. Glow-in-the-dark stickers
Give your child something nice to look at while they are drifting off to the land of nod by popping a few glow-in-the-dark stars on their ceiling.
4. A CD player
For some kids, the silence can be just as scary as the dark – often their imagination can go into overdrive when they hear even the slightest creak. Drown out the silence by playing soothing music to them while they read or just as they are about to settle into sleep. It can be easy to become so engrossed by the music that your little one will never even hear the pipes creaking.
5. A teepee
OK, this might seem a little farfetched but a teepee can actually go a long way in helping your child feel a lot more comfortable in the dark. Not only will it create a space during the day for your little one to be able to go to, it will also be the perfect place for you and your youngster to camp in so you can both tackle the scary "monsters in the dark" together once and for all.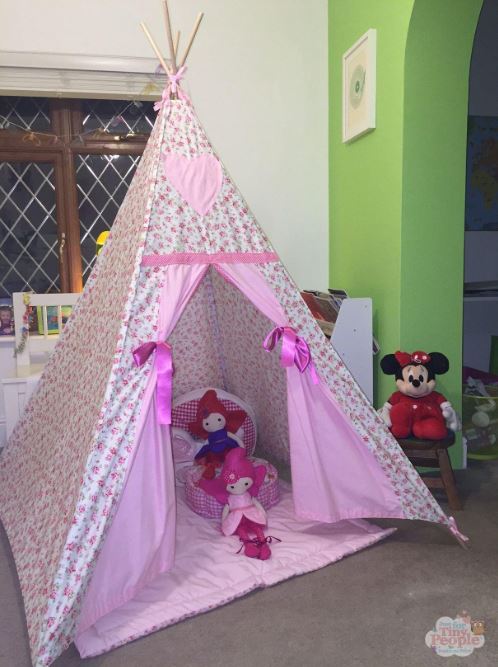 6. A torch
While they probably won't even use it, a torch can offer them a source of comfort – just knowing that it's there should be all they need to help them relax enough to fall asleep. You can also use it to create cool shadow puppets, and teach your child that shadows are nothing but harmless shapes in the process.
SHARE these handy tips.