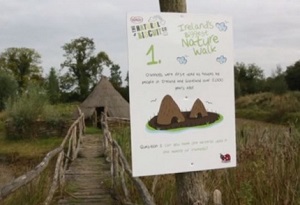 Now that the days are starting to get shorter and colder, we'll take any excuse to get the kids out and active in the fresh air.
Organised in partnership with The Kelkin Natural Biscuit Company, Ireland's Biggest Nature Walk offered the little ones and their parents the perfect opportunity to embrace the outdoors last weekend.
The event, which was completely sold out, was held in the picturesque setting of the Rathbeggan Lakes, Co. Meath – the perfect location to allow kids and grown-ups alike get back to nature.
Those lucky enough to participate in the event were treated to a range of fantastic activities including zip-lining, nature walks and explorer challenges, and water zorbing. There was no shortage of fun on the day, with the little ones also enjoying trips on swan boats and energetic sessions on the bouncy castles.
It sounds like the perfect way to ring in the new season!