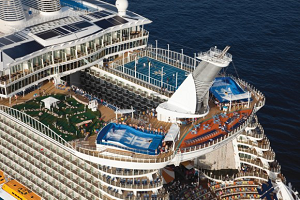 Cruising with kids makes a great choice for a family holiday. Many new cruise ships are like floating resorts, with endless activities to keep children of all ages entertained; meanwhile, your family is transported from destination to destination, with the benefit of unpacking just once!
The
Caribbean
is popular for first-time cruisers, where you pleasantly float from one paradise island to the next. There are trans-Atlantic or Mediterranean cruises to the likes of Italy, Greece and the French Riviera, or cruises around the Scandinavian capitals, where historic cities like Copenhagen,
Alaska
a
nd Helsinki reign with centuries of heritage.
Whenever your ship docks at port you have three options - stay on board, explore by yourself or take a ship excursion.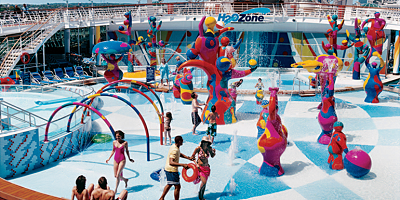 Like any holiday, though, a family cruise holiday needs planning and preparation - these tips will help ensure your family cruise sails as smoothly as possible!
1. Research, research, research
Do not underestimate the benefit of this! Researching your cruise options thoroughly before booking will prove invaluable. Consider the pros and cons of each cruise line, including childcare options, family activities, meal options, stateroom size and layout, and, of course,
price
. When choosing an itinerary, consider the number of at sea days, the ports of call, and shore excursions. If travelling with a baby or toddler, keep in mind that kids clubs vary in terms of age requirements. Children in nappies may not swim in cruise ship pools, however
Disney Cruise Line
, Norwegian Cruise Line, Cunard, and Royal Caribbean offer splash areas on some ships.
2. Book with a travel agent
A good travel agent that specialises in cruises can make the entire process seamless and save you hours of wading through hundreds of sailings and countless offers. An agent will have a greater knowledge of individual ships and cabins (bear in mind the most significant factor in determining the price of your cruise will be the size and location of your cabin!) explain your dining choices and review your documents/reservation to make sure that everything is in order.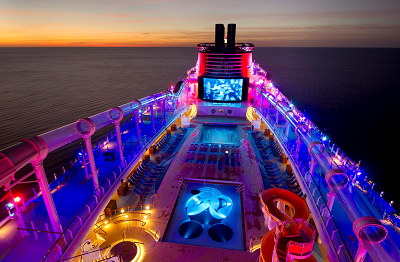 3. The early bird gets the worm
Most cruise lines open reservations on their sailings a year to two years before the departure date, which means your trip can be booked well in advance. If you know exactly when or where you want to go, this can often be the best choice, as it gives you the most options on everything from itineraries to dates, to cabin categories. Plan on arriving at least one day before you set sail – if you miss your departure, it's no fun trying to catch up with a ship that has sailed!

4. Avoid motion sickness
Choose a stateroom that is mid-ship (where there is less motion) to help reduce the likelihood of developing nausea. Also, ensure hands are washed often using antibacterial gel to help keep your family stay healthy while cruising.
5. Travel with hand luggage
Once you have checked in and boarded the ship, it could be a few hours before you have access to your room and your luggage has been delivered. Be sure to keep a carry-on bag with you filled with anything you might need that first day, such as identification, cruise documents, swimsuits, and sun cream. If travelling with a baby, you should pack plenty of nappies, baby food, wipes, and formula since many cruise lines do not offer these items on board.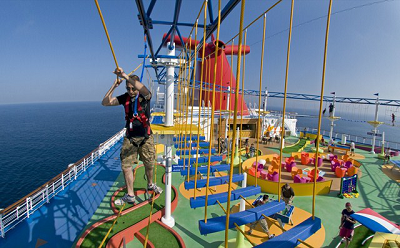 While on-board:
Mobile phone coverage can be non-existent or expensive at sea, so consider bringing walkie-talkies to keep in touch onboard. Most cruise lines use a billing system - as such, there are no cash transactions on board. All purchases are charged to your room, and you will receive a total bill at the end of your cruise, so it's a good idea keep all the receipts you sign as verification of the bill.
Cruise ship babysitting options:
Be sure to ask about childcare options before booking your cruise, as times and availability can vary depending on the ship and cruise date. In general, the minimum age to sail is six months or 12 months for transatlantic routes. A few cruise lines also offer in-room private babysitting at an hourly fee.
Cruise ship kids clubs:
Royal Caribbean Cruise Line
has partnered with Crayola and Fisher-Price, and its kids clubs are packed with activities like pyjama nights, science experiments, scavenger hunts and theme parties. They have also teamed up with DreamWorks Animation where, on select ships, your children can experience exclusive shows, parades, dining and photo opportunities with characters from Madagascar, Shrek, and Kung Fu Panda. Quantum of the Seas, the newest ship in their fleet, has a list of firsts-at-sea that will impress even the most jaded teen - the North Star, a capsule that takes you 300 feet over the sea, a skydiving simulator, bumper cars, roller-skating, and a robotic bartender (located in a common area, so under 21's can enjoy his antics as much as those sipping the cocktails!)
The Oceaneer Labs on
Disney Cruise Line
earns top marks from parents for the fun learning activities, including Ratatouille's Cooking School, the Animation Antics Program, and building with penne at Fourth Pig's Pasta Palace.
Norwegian Cruise Line and Nickelodeon have come together to create a one-of-kind, family-friendly experience on select ships. Kids can hang out and eat with SpongeBob SquarePants at Breakfast with Nickelodeon, dance during Dora's Music Party, or participate in spontaneous messy games featuring pies, slime or even "jellyfish", with Team Nick during impromptu Splash Mobs.
Carnival Cruise Line is entertainment personified. Chill out with the family at the on-board water park, basketball courts, ropes course, play mini-golf, ping pong, and even enjoy a movie at the Seaside Theatre.
What's included in a cruise?
Depending on the cruise line, generally the price of your cruise will include your cabin, on-board entertainment and food. Extra costs to consider when budgeting for your trip include:
Taxes, surcharges, and fees (you should verify which fees and port taxes are included in your cruise price)

Transfers to the port or in-port parking fees, if not included

The cost of staying at port before or after the cruise, such as hotel, transportation and meals

Shopping purchases made both on and off the ship

Alcoholic beverages, bottled water and soft drinks. Some ships offer "soda/drinks packages" that feature unlimited drinks during the cruise

On board extras, such as casino, spas, speciality restaurants, phone/internet access
A cruise ship is a tardis of wonderful experiences, with a wide selection of cuisines and cultures, activities in the sun, spas to pamper your every indulgence, destinations to exotic locations and a million ways to relax. You can do it all or do absolutely nothing - the choice is yours!