One of Dublin's most anticipated festivals, and now one of its largest, Bram Stoker Festival is set to take over Dublin City with its inspired programme of events this October Bank Holiday Weekend (25-28 October). Hugely popular with parents and their little monsters, the festival playfully celebrates all things supernatural, with plenty of family-friendly activities over the weekend, for children and teenagers.
Free Events For Children
Set in the ancient modern of Dublin's Grand Canal Dock, Night Watch (Fri 25 - Mon 28 Oct, all day, best viewed from dusk, Free) is an outdoor spectacle by the internationally renowned Lantern Company taking place across all four days of the festival. Best enjoyed from dusk, but visible from Friday, October 25 until late on Monday, October 28, Night Watch breaks the veil between our time and the past. A ghostly ship will be summoned from the dark depths, swathed in eerie lights, protected by a maritime forest arising from the depths . A must-see for spectacle for families, which will wow and delight children of all ages. Suitable for all ages.
Firm family favourite, Stokerland (October 25 and 26, 11am - 4.30pm, Free to enter (with a small charge for rides) returns to take over St. Patrick's Park for two days of Victorian fun and frolics. With one of Dublin's most stunning cathedrals as a striking backdrop, this Gothic gathering is full of entertainment to keep children amused, including the macabre talents of world class street-performers as well as rides, games, face-painting and lots of fun attractions to ensure a fangtastic time for all. Suitable for children up to 12 years.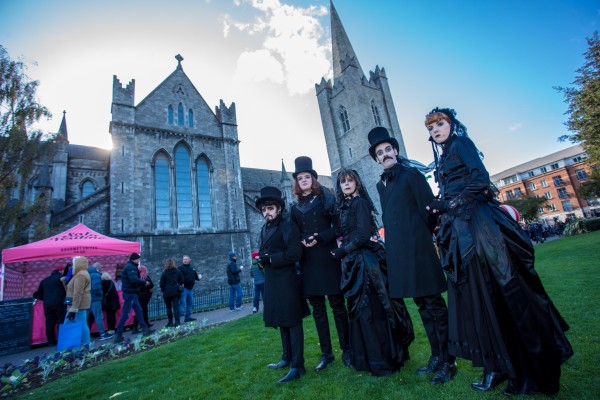 The ever popular Dracula's Disco (October 28, 2pm, Free) returns to Meeting House Square with DJ Will Softly on The Ark's outdoor stage, complete with confetti cannons to inspire some seriously deadly dancing. Suitable for ages 5+ (children must be accompanied by an adult). Free entry on a first come, first served basis. No pre-booking required. Final entry at 3.45pm.
The free Spooky Stories at Marsh's (October 25 and 26, 10am-5pm, Free) will welcome families to wander the darkened galleries where books of witchcraft and heresy are to be found while regaled with bizarre tales from our past. Suitable for all ages (children must be accompanied by an adult)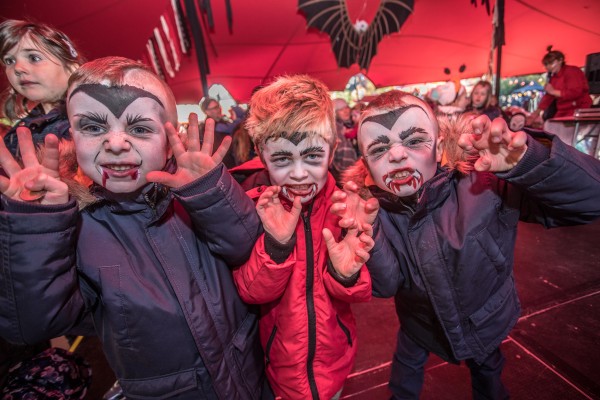 Events Suitable For Teenagers
Teen wolves are well catered for at Bram Stoker Festival with events that can be enjoyed by even the most moodiest monster.
Lighting up the dead of night will be Meeting House Horrors, a series of dress-up outdoor horror movie screenings in Meeting House Square. Join the real weirdos, Mister, and throw on your best 90s goth threads and chokers at The Craft (October 25, 8pm, €16) or feel free to Sleep all day. Party all night. Never grow old. Never die (that last one's important) at The Lost Boys (October 27 Oct, 8pm, €16).
Both films are suitable for teenagers aged 15+. Under 18s must be accompanied by an adult.
A first for Ireland, InstaTerror is a horror story told entirely over Instagram. Anyone with a smartphone and a sense of humour can follow this terrifying haunting as it unfolds over the course of a week. This groundbreaking, online event harnesses modern technology to tell an ancient story of horror.
Suitable for ages 12+. (Will contain unsettling images and video footage)
For the bravest teenagers, there's SÉANCE (October 25 to 28, from 1pm daily, €13), which explores the psychology of a group of people who have been bombarded with suggestible material. It is an intense sonic performance for twenty people at a time, lasting for twenty terrifying minutes. An immersive and unnerving experience, SÉANCE has chilled audiences around the world, blurring boundaries between reality and the otherworld.
Suitable for ages 16+. Under 18s must be accompanied by an adult.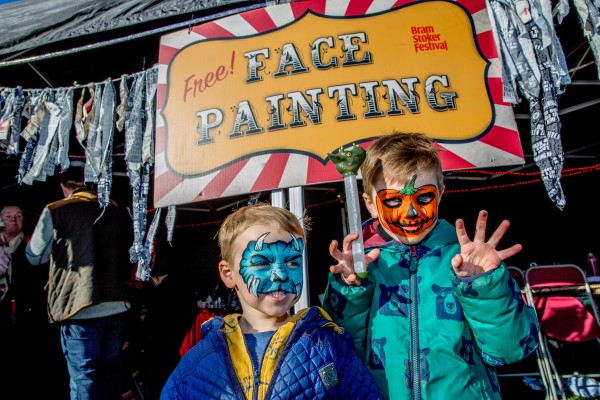 Fans of the Dracula book will love this opportunity to meet the great grand-nephew of Bram Stoker and co-author of the 2018 prequel novel Dracul, Dacre Stoker. His compelling, audio-visual illustration of Stoker's life gives an intimate insight into Dracula's history within Stoker family lore, separating fact from popular fiction at Stoker on Stoker the Mysteries Behind the Writing of Dracula (October 26, 3pm, €11).
Suitable for ages 14+. Under 18s must be accompanied by an adult.