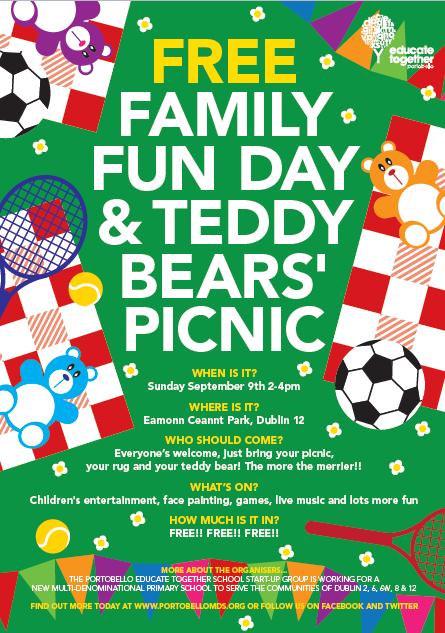 If you are looking for a fun day out for the family, Portobello Educate Together school start-up group are hosting a Family Fun Day and Teddy Bear's Picnic event. This is sure to be a great day for parents and kids. The event takes place on Sunday 9th September 2-4pm in the Eamonn Ceannt Park on Sundrive Road, Dublin 12.
There will be plenty happening with children's entertainment, face painting, balloon modelling, games, and live music. This event aims to highlight the need for a new multi-denominational school to serve the communities of Dublin 2, 6, 8 and 12.
There are only a small number of places available in local primary schools and so the demand for multi-denominational education in these areas of Dublin is great. This can be seen by the large number of parents you have already joined the Portobello group.
Speaking about the event, Chairperson of the Portobello group, Senator Ivana Bacik, said:
"More than 90% of primary schools are still controlled and run by the Catholic Church. This no longer reflects the changing needs of parents and children in an increasingly pluralist and diverse society. In our area, parents clearly want a greater number of multi-denominational school places. This will be our third annual Fun Day event and we hope to have a new multi-denominational school in our area within the next year."