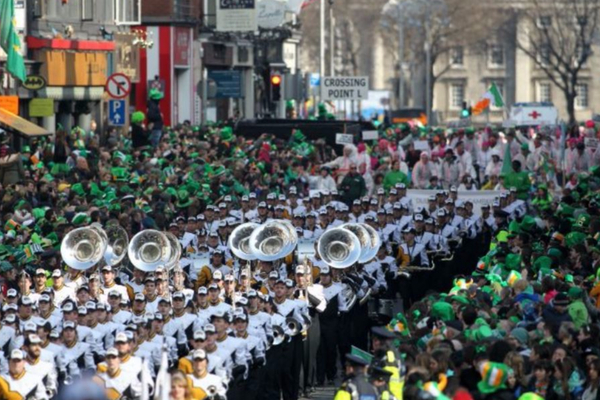 St. Patrick's Day is always a fun family day out, and the kids will be thrilled that it falls on a Friday this year.
There are parades and fun family activities all around the country, and there's bound to be one near you. You can find details of events and times below.
1. Dublin
The festival runs from March 16-19, with the massive parade down O' Connell St. on St. Patrick's Day being the main attraction. It promises to be bigger than ever this year, with over 3,000 artists, musicians, poets, dancers and performers. It kicks off at 12 noon from Parnell Square North.
2. Cork
The parade in Cork will take place at 1pm on Friday, March 17. Details of the route can be found here.
In addition to enjoying the parade, you can also take the kids to sample treats at the pop-up festival market, enjoy some traditional Irish music, or visit an exhibition.
3. Limerick
This year's parade theme is "Our stories: This is where we belong" and will kick off at 12pm on March 17. The parade will consist of community groups, businesses, sports clubs and bands, among others.
4. Galway
The parade in Galway kicks off at 11.30am on St. Patrick's Day, and will finish about 1pm. Highlights include the Galway Arts Centre, Colours Street Theatre, An Taibhdhearc Theatre, and Galway Theatre Festival as well as local street performers, Macnas.
5. Sligo
This year's parade will be held in the heart of the town on March 17. It starts at 12 noon on Mail Coach Road, and finishes at the Mercy Convent Gates.
6. Athlone
Athlone St Patrick's Day parade starts at 2:30 pm, from Golden Island on March 17. It promises to be a fun and lively affair with music, entertainment and buskers throughout the parade.
7. Dundalk
The parade will take place on March 17, starting at 1pm. After the parade, there will be fun family activities at the Market Square until 6pm.
8. Waterford
The Waterford parade will take place at 1pm on St. Patrick's Day, on The Quay and The Mall.
9. Wexford

Wexford's St Patrick's Day Parade will kick off at 11am, from Fisher's Row on March 17. It promises to be one of the biggest parades yet, with 10 bands along with 130 groups and floats taking part.
10. Navan
The Navan Shamrock Festival and parade promises to be an exciting event. The parade will kick off at 2pm on March 17.
11. Achill Island
Achill Island has an incredible St, Patrick's Day celebration with their traditional pipe bands. The celebrations kick off at 6am with a drummer marching around the island, and the pipe bands can be enjoyed throughout the day.
12. Bundoran
The annual St. Patrick's Day parade will take place on Friday, March 17 at 3.30pm, starting at East End, routing through Main Street to the West End.
13. Tralee
The Tralee Parade will get underway at 12pm this year. The theme for this year's parade is "A Celebration of Tralee Sport".