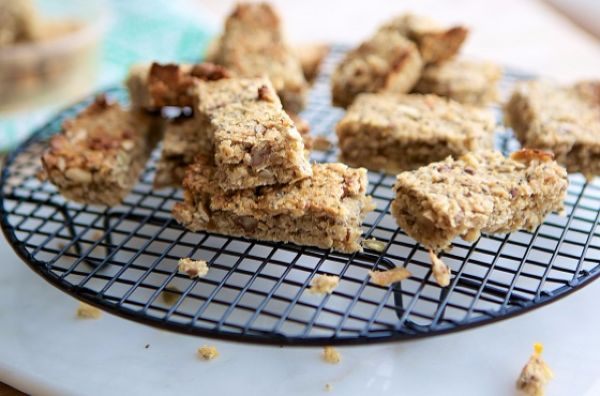 We absolutely love baking, and while we love chocolate cake and donuts, sometimes we are in the mood for something a little bit healthier.
With that in mind, we decided to share a delicious (and healthy) granola bar recipe, that you and your kiddos will love.
Put on those aprons, and get ready for a fun evening of family baking.
What you'll need:
4 tbsp of butter or coconut oil.

6 tbsp of fruit purée (We used Apple and Apricot)
2 tbsp of honey or maple syrup.
2 cups of oats.
4 tbsp of mixed seeds (pumpkin, pine nuts, chia, flax - whatever you have in the press!)
3 tbsp of ground almonds.
2 tbsp pecans, chopped into small pieces.
Optional extra: handful of raisins.
What you'll do:
Preheat your oven to 180 degrees.
Place the coconut oil or butter in a small saucepan over a low heat until melted. Add in purée and honey/maple syrup, and heat gently.
Combine all of the dry ingredients in a large bowl.
Stir in the wet ingredients and place in either a silicone or parchment lined baking tray.
Bake in the oven for 15-20 minutes until golden brown.
Make a lovely cup of tea and enjoy!
Remove from the oven and allow to cool fully before cutting into squares.