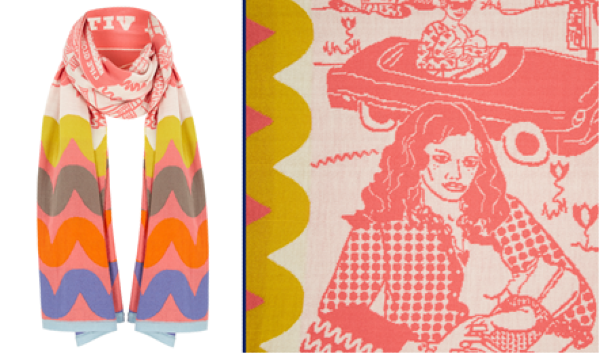 Electronic Sheep designers, Brenda Aherne and Helen Delany are delighted to have been invited by The National Maternity Hospital to work on a collaboration scarf.
Known for their colourful tapestry-esque knits, Electronic Sheep were asked to design a scarf that would be beneficial to breastfeeding women. A new product that would empower, support and encourage nursing mothers.
The resulting scarf is an oversized blanket scarf in the signature Electronic Sheep illustrative style and electric colours. The new 'Life Glorious Life' scarf (a name taken from the NMH motto) works on 3 levels; as a breastfeeding cover, a fashion scarf and as a baby blanket.
The scarf design is based on their existing classic Electronic Sheep blanket scarves and has been tried and testing by the designers who are themselves mothers with young children and used their scarves as breastfeeding covers and baby blankets. Brenda's twins Bonnie and Blake were born at Holles Street Hospital in 2011.
We are so delighted to be collaborating with @esheep_knitwear for the National Maternity Hospital , Holles street's 6th Annual Fashion Show 2017 tonight in aid of @helpinghollesst pic.twitter.com/DgbDBUOOFB

— FAO Millinery (@FAOmillinery) November 23, 2017
The babies arrived prematurely and Brenda remembers how well they all were looked after at the hospital. She is now delighted to give something back in this fundraising collaboration. The campaign to promote breastfeeding resonates with the designers and Helen remembers her own initial 'up and down' experience.
A main concern about breastfeeding was about being confined to the house. That all changed after a prenatal course where she was shown images of women fishing, eating and hanging out in public spaces while breastfeeding. And also discovering that women have an absolute right to breastfeed in public – anywhere they want – a fact she wasn't even aware of!
This revelation became the story behind the 'Life Glorious Life' scarf which portrays women breastfeeding in different outdoor scenarios. The scarf illustrates women sitting at cafés, in parks/streets, reading and relaxing in public while breastfeeding. It depicts a positive and happy environment for both mother and baby; all with their "Life Glorious Life' blanket scarf of course!
The hand drawn scenes are set around Holles Street Hospital and the striking historic building is central to the design. Knit in 100% supersoft merino wool, the scarves are limited edition and produced ethically in Europe.
They are beautifully made, warm, long-lasting and hence a covetable heirloom. 'LIFE GLORIOUS LIFE' BLANKET SCARF Retail price is €155 (Limited Edition Price) 10% from the price of each blanket scarf will go to the NMH Foundation Available exclusively on line at www.electronicsheep.com Available in two colour schemes.