Folláin Traditional Irish Preserves were founded in 1983 and since then have gone from strength to strength. Folláin (the Irish for wholesome) make fresh fruit marmalades, jams, relishes, salsas and chutneys. These are made from 100% natural ingredients, avoiding the use of any obscure flavourings, additives or preservatives common to so many prepared foods on the market today. In fact Folláin's No Added Sugar Range of jams and marmalades are sweetened naturally with grape juice where one teaspoon only contains approximately 25 kcals and 5 grams carbohydrate where the same amount of normal jam or marmalade contains approximately 40 kcals and 10 grams carbohydrate.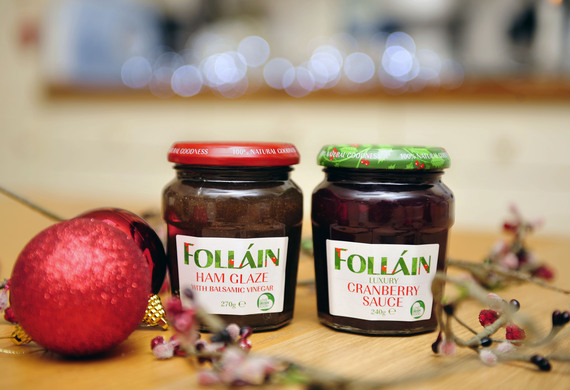 Originally operating in owners Peadar and Mairin O' Lionáird's kitchen Folláin continues to be made in the local community of Cúil Aodha, Maghcromtha, Co. Chorcaí. The recipe is at the heart of Folláin which has never altered; retaining the artisan, kitchen cooked natural goodness over the past 29 years. It is this and the wholesomeness of their preserves which was the secret behind Folláin's success at the recent Great Taste Awards and Blas Na hÉireann where products such as Flame Grilled Pepper Relish, No Added Sugar Blackcurrant Jam and Extra Fruit Seville Marmalade won top awards.
Folláin believe that Christmas is a time to enjoy delicious home cooked food made from natural and wholesome ingredients and have therefore launched a festive range which includes all the flavours and delights to accompany the perfect Christmas dinner.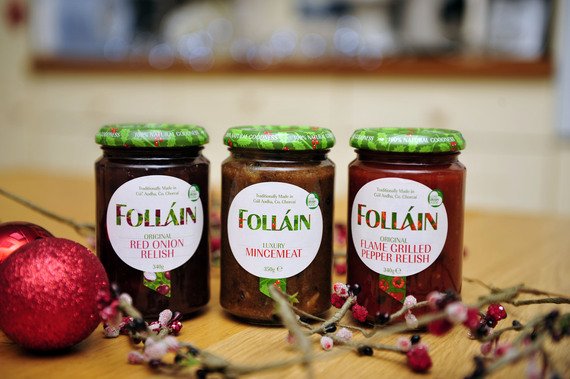 Luxury Ham Glaze with Balsamic Vinegar will ensure the most succulent of hams, while turkey will be lifted to a level of divinity by the addition of the Luxury Cranberry Sauce. For the post dinner cheese board, Folláin Festive Red Onion Relish and Flame Grilled Pepper Relish are the perfect accompaniment, not forgetting the deliciously tempting Mince Pies made with Folláin Luxury Mincemeat. Folláin will help your Christmas dinner be the best it's ever been.
Join Folláin on
facebook
this Christmas for lots of clever cooking ideas and tips for getting the most out of wonderful festive ingredients to make the perfect Christmas dinner.