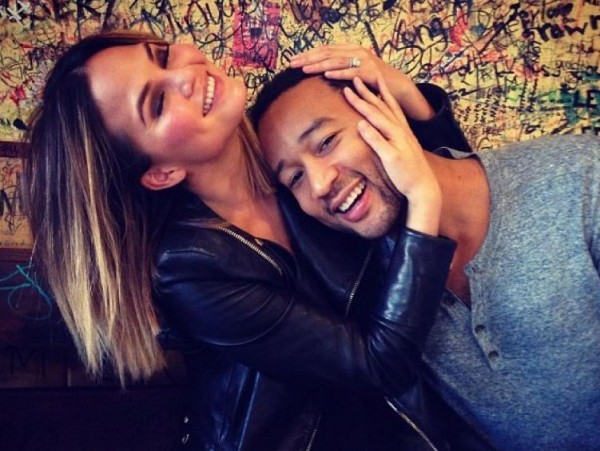 Chrissy Teigen: mum, model, Lip Sync Battle host, wife of John Legend, and now the hero of thousands of women.
The mum-of-one is known for her toned, flawless body - she was a Sports Illustrated model for one - but that doesn't mean she's immune to things like stretch marks or cellulite.
No. Just like us, the 31-year-old has to deal with all these so-called body imperfections - but her attitude to them is not only refreshing but inspirational for women all over.
Whatevs pic.twitter.com/D67Qtt12gv

— christine teigen (@chrissyteigen) January 19, 2017
Taking to Twitter yesterday, Luna's mum uploaded a picture of her leg under the caption "whatevs". But it wasn't just any picture.
The model actually showed off her stretch marks in all their wonderful glory, and people could NOT stop praising her for it.

@chrissyteigen pic.twitter.com/dDRQCI4BGt

— deja (@jdbftkalin) January 19, 2017
@chrissyteigen You are now forever my hero. I love you for being real. Thank you.

— Susan B (@sborchardt) January 19, 2017
@chrissyteigen THANK YOU. Normalizing things like stretch marks and cellulite in the public eye is so so important. Thank you.

— ashley (@punkscuIIy) January 19, 2017
Thanks for being human RT @chrissyteigen: Whatevs pic.twitter.com/mAAb0vyMQA

— Callie (@C_Dout) January 19, 2017
@chrissyteigen girl, you had a baby. I'd be more surprised if you didn't have them. Wear those marks proudly!

— jessica (@ironshackle) January 19, 2017
@chrissyteigen when I got my 1st stretch mark as a preteen I thought I had a disease. Now 23 y.o., I appreciate your body positivity so much

— Annie Devine (@Annie_Devine) January 19, 2017
However, while she was inundated with messages of thanks and supoort, there were a few who simply couldn't figure out which part of her body it was...
@chrissyteigen wtf. If it is her thigh, why is it cut off at the bottom. It's really messing with me.

— Joshua Pinter (@joshuapinter) January 19, 2017
@chrissyteigen wait what part of your body is this I've been trying to figure it out for what feels like a century

— Johnny (@johnnygaywood) January 19, 2017
But the best one has to be:
@chrissyteigen That's all good and fine but you glass is empty pic.twitter.com/MHyPUB54I0

— Phillip Alexander (@Pablo942000) January 19, 2017