There is still time to get The Cloud 10 Beauty #Galentines Gift Box - it's worth €112 but you pay only €46.95. Or you can treat your BFF and yourself to a full Galentines night routine and buy two for €80! When buying two you're making a mega savings of €144.
This Galentines box is the perfect treat to indulge, and there's no better time to experience selfcare than now! Read on to find out just exactly what each box contains.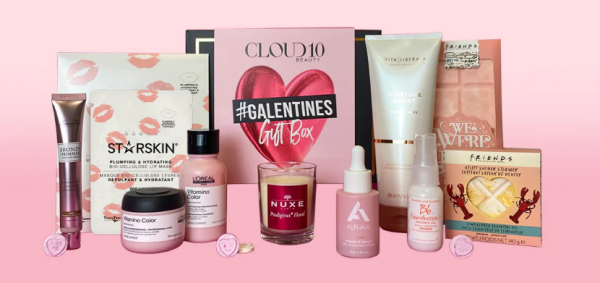 Alpha-H Vitamin E Serum With 1% Ceramide Complex – Full Size
This beauty is normally €54.50 on it's own to buy, so that is already showing the MEGA savings of this beauty box! This serum with 1% Ceramide Complex nurtures the skin with essential skin-loving ceramides in the new and improved formula to help relax and soothe the skin. The Vitamin E derivative Vital ET™ soothes irritation and enhances the skin's defences against external aggressors. This lightweight serum contains natural botanical oils rich in antioxidants which defend against free radical damage, fortify the skin's barrier, and boost moisture levels.
Vita Liberata Moisture Boost Body Treatment - Full size
This is the ultimate tan-enhancing body moisturiser, formulated with a unique Moisture Lock™ cocktail of hydration heroes. Organic Aloe Vera and Organic Shea Butter are deeply nourishing and soothing, while Hyaluronic Acid helps to keep your skin and tan in top condition. There's also a subtle shimmer to enhance your glow.
L'Oreal Professionnel Vitamino Color Shampoo & Mask – Travel Set
Vitamino Color Shampoo is infused with resveratrol, a powerful polyphenol, that protects your hair colour from fading for up to 8 weeks and the fibre from damage for perfect salon coloured hair. Vitamino Mask works to protect your colour and the fibre from damage. In only a minute, hair is nourished, strengthened and soft. Colour appears more radiant.
Bumble and bumble Hairdresser's Invisible Oil UV and Heat Protective Primer Travel Size
This multitasking leave in treatment for all hair types instantly cuts frizz by 50% when compared to untreated hair. The iconic, 6-Oil Blend in our products helps to condition, moisturize, nourish, soften, and smooth hair. Additionally, it protects against heat up to 450°F/232°C, includes UV Filters to shield hair from the sun's drying effects, prevents colour fading for up to 16 washes.
STARSKIN Dreamkiss Plumping and Hydrating Bio-Cellulose Lip Mask
This lip mask follows the contours of your lips to deliver the equivalent of 15ml of serum in just 15 minutes. It instantly plumps and smooths lips, helping to minimise the appearance of any lip lines and wrinkles while cooling and hydrating.
Loving Tan Bronze Shimmer Luminous Cream - Dark Travel Size
This innovative and versatile formula can be used on its own or over your tan, it instantly bronzes, illuminates and enhances your skin. The perfect transfer-resistant formula infused with micronized pigments providing a natural, soft-focus effect. The Aloe Vera, Coffee and Pomegranate extract helps to hydrate the skin, leaving you looking radiant and felling extra smooth.
NUXE Florale candle
This candle is a luxurious and fragrant candle designed to create a relaxing and inviting atmosphere in any room. It features a delicate blend of floral scents that will fill your space with a fresh and soothing aroma. Whether you're looking to unwind after a long day or set the mood for a romantic evening, the Nuxe Florale Candle is the perfect choice.
Friends We Were On A Break Bath Bar Full Size
This will become your new fave bath treat. Break off a chunk or two of this "We Were On A Break" Peach and Orange Blossom Bath Bar, add to the warm water, and unwind in a deliciously scented relaxing bath. Reminiscent of early summer days, the peach and orange blossom fragrance is a sweet, soft, citrus scent with floral and fruity notes that will stimulate your senses and leave you feeling just peachy!
Friends Lemongrass Shower Steamer Full Size
This shower steamer will uplift and revitalise your senses with this scented shower steamer. Simply break off one quarter of the shower steamer and place on your shower floor. Turn on the shower, then step in and inhale the uplifting lend of lemongrass essential oil. It is the perfect way to start or end any day no matter how you feel, this shower steamer will leave you feeling refreshed!
Purchase now here.