Irish people need more fish in their diet, so says the findings of a new research survey. This research was undertaken to mark the launch of Jamie Oliver's first range of frozen fish by Young's Seafood and 1,012 Irish people took part. A shocking 90% of participants said they would like to include more fish in their daily diet and when asked about reasons for not eating fish regularly, 45% said they found it difficult to prepare, while 40% said the smell of fish put them off cooking it on a regular basis.
To make the preparation of fish quick and simple, Jamie has created a range of frozen fish dishes so you and your family can include a lot more seafood in your diet. The Jamie Oliver range by Young's Seafood features nine different fish dishes perfect for serving as a family dinner. The range includes crispy salmon fishcake with zesty lemon, pollock fish fingers and fish pies with chunks of wild pollock fillet and juicy peas in a creamy cheese sauce. These frozen dishes are available in Tesco and Dunnes Stores nationwide.
If your child has proven to be a bit reluctant to eat fish in the past, the Jamie Oliver 'little meals' are an excellent way to introduce fish into their diet. The delicious fish pies, with cheesy sauce and carrot and potato mash topping, are sure to be a hit with even the fussiest of children and the fish fingers are very kiddie friendly as are the mini fishcakes.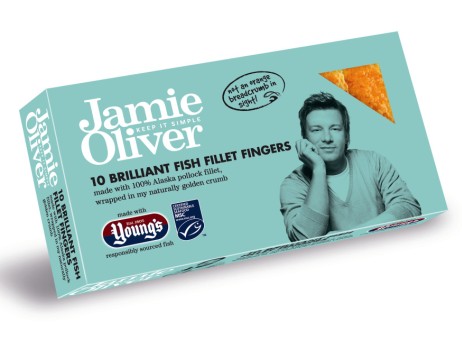 Jamie Oliver says, "Fish is delicious and good for you…what I've done with my range by Young's is focused on delicious, convenient favorites like fishcakes, fish pies and fish fingers but I've made sure that we're using sustainable fish so that everyone can enjoy a great product with no nasties. Giving mum and dad the perfect opportunity to get the kids to try different types of fish, yummy dishes created with good honest ingredients and no artificial flavours or colours."
Jamie adds: "We want to encourage people to try different types of fish and, together, we've sourced some tasty varieties without damaging the environment or fish stocks for the future. The fish are frozen at their freshest, locking in all that fantastic flavour, which means my range is not only good for the sea, it's also good for you."
Jamie Oliver by Young's Seafood available now in Dunnes Stores and Tesco with prices ranging from €2.00 - €2.69.