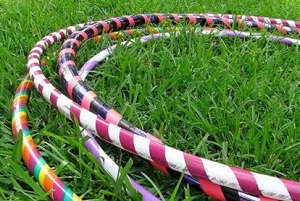 Getting our little ones to bond and enjoy game time together is important, and one fun way to do that is with this easy hula hoop game.
What you will need:
2-3 hula hoops
Your little one and a group of their friends
The game:
This could not be simpler or more fun. All you need to do is get your little one and their buddies to stand in a circle and hold hands. Then, place a hula hoop on the shoulder of a child at one side of the circle, and another hoop on the shoulder of the child standing opposite.
The object of the game is for each child to slip their entire body through the hoop without breaking hands. Send one hoop going in one direction, and the other going in the opposite.
Not only will they have great fun trying to manoeuvre themselves and each other through the hoops, but it's a great way to get the children working together on problem solving.
This is a great game that you can bust out time and time again, and they will never tire of it.
Images via Pinterest