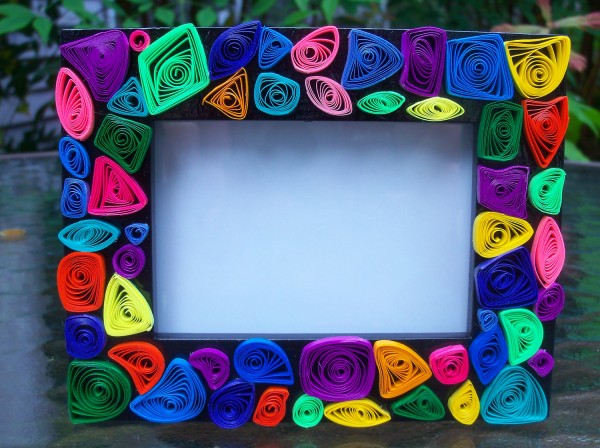 If you're anything like us, you have boxes of pictures left feeling unloved, and a fridge full of drawings that are looking a bit worse for wear.
But with a small bit of effort, you could give these much-loved items a new home and have some fun while you're at it.
Yes, we'll use any excuse to get our craft on, and DIY photo frames are our new project.
While frames are relatively cheap these days, they can often times be boring and lack personality. So, why not try out one of these five homemade frames, and add some much need colour and organisation into your home?
1. Newspaper roll frame
We have memories of creating these bad boys back in our school days.
With just a few items needed, you can create lots of different frames by varying the size and colour of your rolls.
Simply attach some strip magnets to the back, and this is perfect for framing your little one's latest artistic creation on the fridge.
2. Lollipop stick frame
Is there anything you can't make with lollipop sticks? We stock up on them whenever we get the chance, because they can be used in a multitude of ways.
This sweet frame is the perfect bedside accessory, thanks to its handy stand.
While you could leave it the way it is, we love adding a touch of paint to tie it in with the room.
3. Straw frame
While this lovely frame may involve a few more steps, we think the outcome is totally worth it.
This frame is definitely one for the mantle, with a unique design that will definitely get noticed.
Again, pick tape that suits the colour scheme and pattern style you like, and after that, go as wild as you'd like.
4. Cardboard frame
It doesn't get much simpler than cardboard frames.
With a small list of things needed, this easy craft is perfect for younger ones who want to get involved in the fun.
We recommend hanging on to leftover wrapping paper from birthdays and Christmases, and using them as your covers.
5. Bangle frame
We LOVE this idea and will definitely be trying this ourselves this weekend.
Again, not the easiest of our list, but the finished frame is something that you will be proud of.
While you may be limited with the pictures you can put in, thanks to its circular shape we think this gorgeous frame should be the focus of the attention.