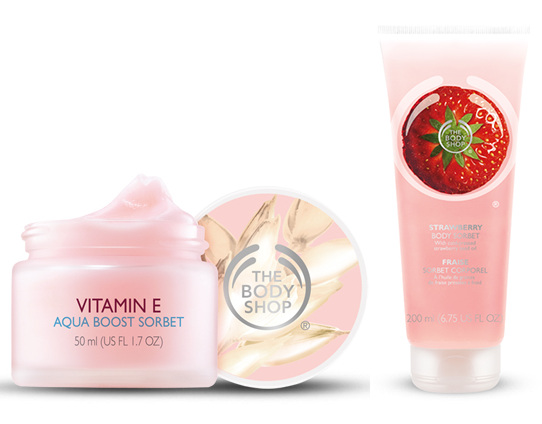 As the summer sun approaches, now is the best time to invest in products that will help to keep you cool.
Skin needs water to stay plump and hydrated, and Vitamin E Aqua Boost Sorbet contains Aqua Sphere technology – microscopic moisture spheres that act like tiny reservoirs and hold hundreds of times their weight in pure water.
It also contains wheatgerm oil, Community Fair Trade shea butter and soya oil all of which will help to keep your skin moisturised and smooth. Its lightweight refreshing texture, easily absorbs into your skin, leaving you shine-free and fresh.
However, if you are after something a little fruitier, The Body Shops new Body Sorbets help to deliver a frosty burst of moisture freshness to skin, keeping you hydrated without a sticky feeling.
It is available in four fruity flavours: strawberry, mango, peach and satsuma that you will be irresistible. Containing 100% organic Community Fair Trade Aloe Vera from Guatemala it will help to comfort, cool and soothe skin frazzled by the heat.
Now all you have to do is decide which one to go for, or treat yourself to both.