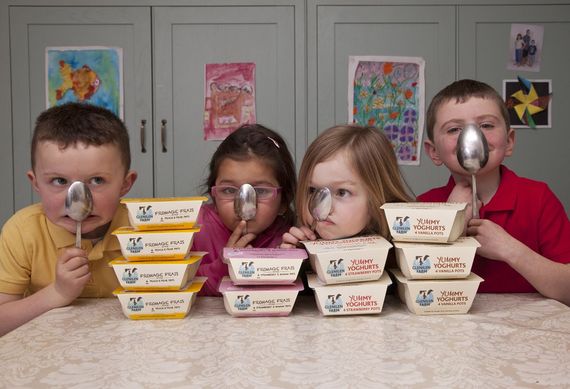 Glenilen Farm have launched an exciting new range of yoghurts just for kids. Yummy Yoghurts and Fromage Frais Style yoghurts (for babies 6+months) are made using just three ingredients and both are free from additives or preservatives.
Over the years, West Cork's Glenilen Farm have produced a tasty variety of chilled desserts, yoghurts, creams and butter on their family farm and their new yoghurts are no exception.
Kids will love the Yummy Yoghurts and Fromage Frais Style range – not only were young taste buds central to the development of the yoghurts, but children's drawings were also inspirational in the design of the packaging.
Valerie Kingston, co-owner of Glenilen Farm says;"With our new range, we wanted to create something that children would want to pick up and explore. So it made sense to us to invite children to share their drawings and ideas with us, something which has greatly helped us develop what we believe to be striking and warm packaging which will stand out, but also sit very comfortable alongside Glenilen Farm products."
Fromage Frais Style range is available in Peach & Pear and Strawberry & Banana, while the Yummy Yoghurts are available in Vanilla and Strawberry.
Yummy Yoghurts and Fromage Frais Style yoghurts are now available in supermarkets nationwide.