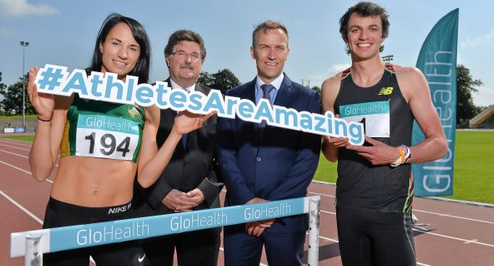 Ireland's most innovative health insurer, GloHealth, have announced that they are the official sponsor of Athletics Ireland.
The sponsorship will include the successful Fit4Life initiative as well as all of Athletics Ireland's National Championships.
GloHealth's CEO, Jim Dowdall spoke of his delight at the announcement: "GloHealth is delighted to be an official sponsor of Athletics Ireland. This sponsorship of Athletics Ireland is a natural fit for GloHealth and we look forward to both organisations working together to further develop the sport of athletics at all levels while also promoting and supporting people across Ireland maintain an active lifestyle and improve the quality of their health and well-being."
The first focus of the partnership between GloHealth and Athletics Ireland will be the GloHealth National Championships which takes place this month with events such as the World Junior Track and Field Championships taking place in the US and the GloHealth Senior Track and Field Championships taking place on the 19th and 20th July.
CEO for Athletics Ireland, John Foley, also spoke of the partnership, saying: "One of the key objectives of the Athletics Ireland Strategic Plan 2013-2016 is to promote health and fitness to the population as a whole. By partnering with GloHealth over the next three years we have a significant opportunity to make an impact on both the health and fitness of people throughout the country."