There is something about how an Irish name sounds that makes it a popular choice for parents, even with those not from Ireland.
If you are still trying to settle on a name, why not take your pick from one of these gorgeous Gaelic choices?
It is St Patrick's Day after all!
Girls:
1. Aoife (pron. Ee-fa) meaning to give life
2. Ailbe (pron. Al-be) meaning white
3. Aideen (pron. Ay-deen) meaning fire
4. Áine (pron. Awn-ya) meaning splendour
5. Aoibheann (pron. Eve-een) meaning radiant beauty
6. Aoibhe (pron. Ee-va) meaning life or beauty
7. Béibhinn (pron. Bev-in) meaning fair woman
8. Caireann (pron. Care-in) meaning little friend
9. Catríona (pron. Ka-tree-na) meaning pure
10. Caoimhe (pron. Kee-va) meaning beautiful
11. Ciara (pron. Kiera) meaning saint
12. Dearbháil (pron. Dur-va-la) meaning daughter of Ireland
13. Eibhleann (pron. Ave-linn) meaning pleasant
14. Saoirse (pron. Sear-sha) meaning freedom
15. Meabh (pron. May-ve) meaning cause of great joy
16. Maolisa (pron. Ma-lisa) meaning follower of Jesus
17. Nollaig (pron. Null-ig) meaning Christmas
18. Gráinne (pron. Graw-nya) meaning grain
19. Ide (pron. Eye-da) meaning thirst for goodness
20. Yseult (pron. Ee-solt) meaning fair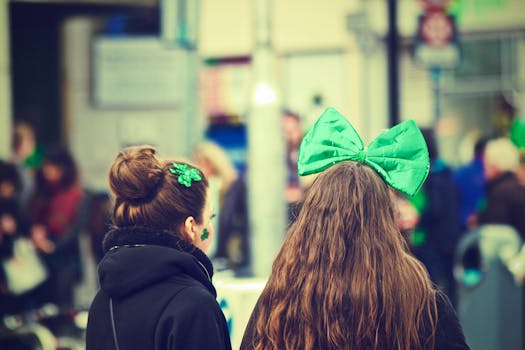 Boys:
1. Aodhán (pron. Aid-on) meaning born of fire
2. Aengus (pron. Ang-is) meaning excellent strength
3. Bradán (pron. Bray-dawn) meaning the Salmon of Knowledge
4. Cabhán (pron. Cav-an) meaning grassy hill
5. Carrig (pron. Karr-ig) meaning a rock
6. Cian (pron. Key-in) meaning ancient
7. Cóilín (pron. Coll-in) meaning little Chieftain
8. Colman (pron. Cole-man) meaning little dove
9. Conchobhar (pron. Kon-er) meaning lover of hounds
10. Daire (pron. Da-raa) meaning fruitful
11. Diarmuid (pron. Dear-mid) meaning without enemy
12. Donnacha (pron. Done-a-ka) meaning brown-haired warrior
13. Eoghan (pron. O-in) meaning born of the Yew tree
14. Fionn (pron. Finn-on) meaning fair head
15. Lorcan (pron. Lor-kan) meaning fierce
16. Lochlan (pron. Lock-linn) meaning land of the lochs
17. Oisín (pron. Osh-een) meaning little dear
18. Odhrán (pron. Oo-ran) meaning dark haired
19. Seamus (pron. Shay-mus) meaning supplant
20. Turlough (pron. Tur-la) meaning one who assist