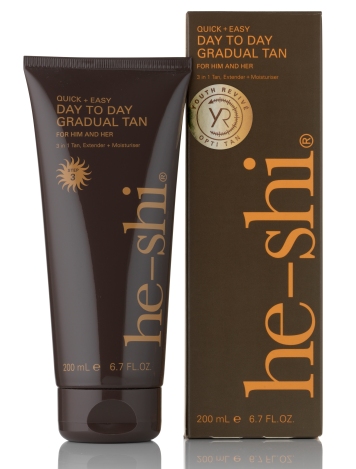 While the weather might still be cold, Spring/Summer style is in all the shops, which means you'll soon have some skin on show. If you don't want your limbs looking ghostly, you'll need to get a great fake tan that will give you a healthy, natural glow.
He-Shi is the award winning Irish self tanning range that has a simple step-by-step routine. Not only will you have a beautiful tan, but He-Shi also offers a wealth of skin improving benefits.
He-Shi's unique Youth Revivé Opti Tan formula uses 'Moisture Lock Technology' including advanced moisturising ingredients such as Glycerin, Pro-Vitamin B5, Aloe Vera and Vitamin A & E. These ingredients help hydrate the skin which in turn pro-longs the tan, rejuvenates the skin's appearance and also fights signs of ageing.
While the formula for He-Shi's Youth Revivé Opti hydrates the skin, it also creates a slimming effect when applied carefully with contouring and sculpting. So not only will this tan leaving you looking younger, it will also have you looking slimmer! What more could you ask for in a product?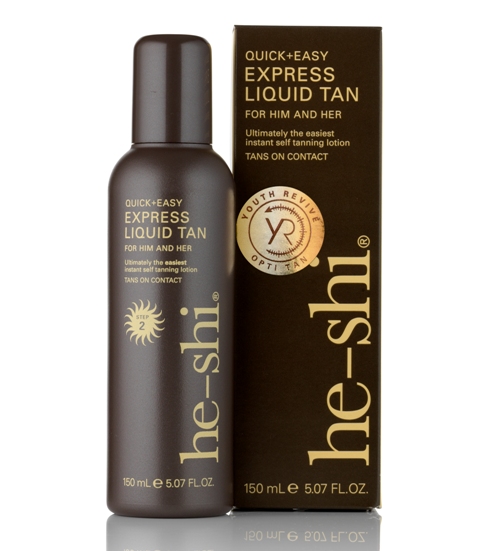 Award winning He-Shi Express Liquid Tan is ideal for mums in a rush. It tans instantly on contact with the skin, giving a lovely bronzed complexion with immediate results. The tan dries very quickly and has a lovely light liquid texture. You can also be confident there won't be any patches or streaks as you can see the tan as you apply it.
If you want a really rich dark tan (perhaps when going on holidays or for an event) try He-Shi Dark Foaming Mousse. This foam is so easy to use and tans on contact with the skin. If you would rather a subtle glow, we recommend you try Hi-Shi Face & Body Gel. It's packed with Aloe Vera and Vitamins, and can be layered so you can achieve the exact tone you want for your skin. For a natural, day-time tan, He-Shi Day to Day Gradual Tan is a brilliant product. Simply build as you apply each day.
To ensure the best results when tanning, exfoliating is a must. He-Shi Exfoliating Bodywash leaves the skin smooth which allows for an easier application. To maximise your tan, try He-Shi Soufflé Moisturiser.
Available at selected department stores, salons and spas nationwide as well as online at
www.euro-products.ie
April 2013