The dreary weather has returned to Ireland and it looks like it will be sticking around for quite some time. Thinking of things to keep the kids entertained on a rainy day can be a tricky task, especially when all they want to do is watch Baby Shark on loop on YouTube.
Luckily, an incredible exhibition has come to the Emerald Isle that will educate your mini-mes.
The National Museum of Ireland, in collaboration with National Museum Wales, officially launched the Jurassic Skies exhibition on January 21 at the National Museum of Ireland – Decorative Arts & History at Collins Barracks. Jurassic Skies will be officially opened by David Anderson, Director General of National Museum Wales.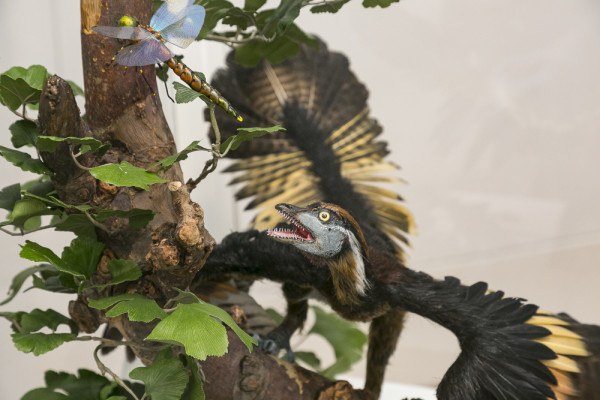 Jurassic Skies tells the story of the evolution of flight, offering visitors the opportunity to view a number of important, rarely seen fossils from the National Museum of Ireland's collections.

The focal point of the exhibition is the Archaeopteryx, a small dinosaur with special feathers shaped to catch the wind. Archaeopteryx is often thought of as the 'missing-link' between dinosaurs and birds. Only twelve skeletal specimens have ever been found, all coming from the Bavarian town of Solnhofen in southern Germany. The fossils Archaeopteryx left behind help us to understand the development of feathered flight. Archaeopteryx is the earliest fossil that shows adaptations to powered flight, with asymmetrical feathers and development of the areas of the brain associated with flight in modern birds.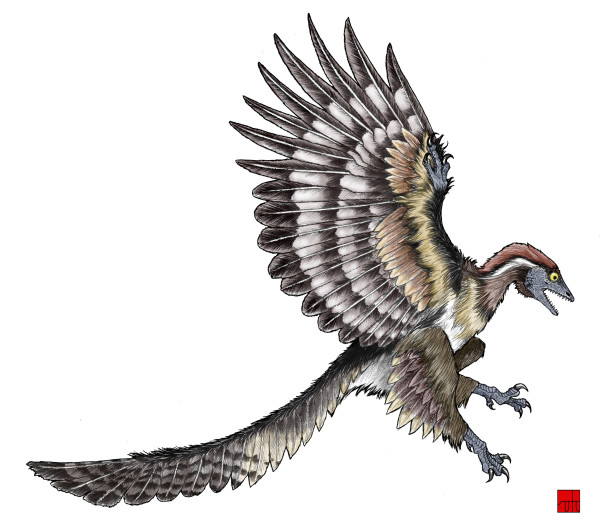 Jurassic Skies features a reconstruction of what Archaeopteryx may have looked like. Mounted on a model Ginkgo tree and chasing a Protolindenia dragonfly, the reconstruction was specially made for Jurassic Skies by artist and model maker Tony Hitchcock.

David Anderson, Director General of National Museum Wales said: "I welcome this opportunity to share our exhibition on flying dinosaurs with the National Museum of Ireland. It is a collaborative effort by teams from both museums and something we intend to develop further in terms of the partnership."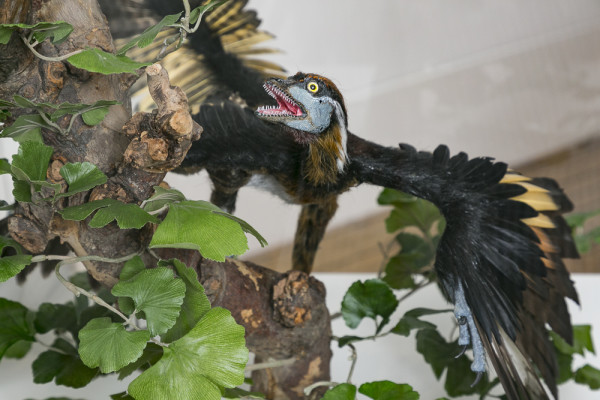 In support of Jurassic Skies the National Museum of Ireland's Education & Outreach department will be offering a number of activities centred on the exhibition. An open day for families will take place in National Museum of Ireland – Decorative Arts & History, Collins Barracks on Sunday, February 17.

Jurassic Skies curators, Dr. Matthew Parkes and Paolo Viscardi, will be on hand at the open day to help budding palaeontologists discover more about when dinosaurs took to the air. Scientists from the Geological Survey of Ireland will help visitors make their own fossil and there will be an opportunity to learn more about flight and birds from ornithologist Jamie Durrant. Full programming details are available at www.museum.ie and no booking is required.
Dr Matthew Parkes @NMIreland and Scientific Visitor at Geological Survey Ireland @Dept_CCAE at the opening of Jurassic Skies exhibition #fossils #geoscience pic.twitter.com/UyjTe6jKW4
— Geological Survey IE (@GeolSurvIE)
January 21, 2019
Jurassic Skies is a temporary exhibition at National Museum of Ireland – Decorative Arts & History, Collins Barracks until March 24, 2019.