If like me, you were starting to panic a bit, worrying how you're going to keep your little ones entertained and out of trouble all summer, then we've got great news for you. The Kellogg's GAA Cúl Camps are coming back!
The GAA, in partnership with Kellogg, have just announced the launch of their 2021 Kellogg's GAA Cúl Camps, offering children a healthy, fun and safe summer outdoor activity. Starting on June 28 and running up to August 27, the 2021 Kellogg's GAA Cúl Camps will of course run in line with all government guidelines and subject to the advice of the relevant authorities.
The successful health and safety measures from last year will be implemented again and built on for the 2021 camps. Despite the challenges they faced last year, the 2020 Kellogg's GAA Cúl Camps proved a great success and provided a welcome diversion for over 70,000 children across the country from the Covid-19 restrictions.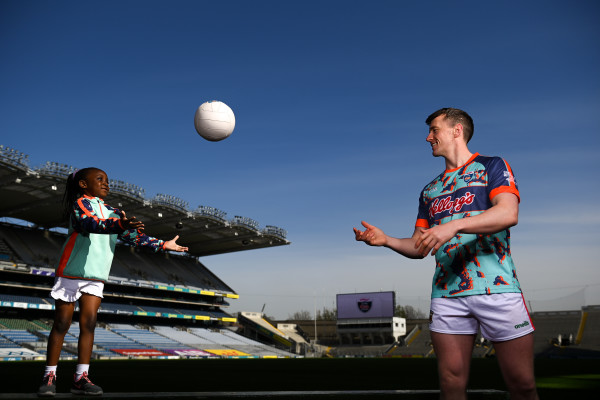 As if that wasn't enough, it also marked an important milestone by welcoming the 1 millionth participant to the Kellogg's GAA Cúl Camps. The number of camps and capacity at this year's camps will increase as we get closer to the summer months with some already on sale, so parents are reminded to book early to avoid disappointment as demand is expected to be higher than ever.
For those who don't know, Kellogg's GAA Cúl Camps provide primary school boys and girls between the ages of 6 and 13 with an action-packed and fun-filled week of activity during the summer holidays focused on having fun and promoting participation in Gaelic games. The camps are run by qualified coaches and open to children both with and without experience playing Gaelic games.
Registration includes the hugely popular Kellogg's GAA Cúl Camps kit – jersey, ziptop and backpack – and this year the kit is available before the camp even starts! Camps cost €65/£55 for the first child with sibling and second camp discounts available.
Kellogg has also today launched the nationwide on-pack promotion for all GAA clubs across the country to be in with a chance to win prizes worth a total of €40,000. With fundraising activities severely disrupted over the past year, this on-pack competition provides GAA members with an incredible opportunity to raise vital funds for their team.
In order to nominate your GAA club, all you need to do is purchase a promotional box of Kellogg's Corn Flakes, Rice Krispies or Bran Flakes. Using a unique on pack code, log on to kelloggsculcamps.gaa.ie/competition and nominate your club of choice. Best of luck!