Summer is here, restrictions are lifting and we're super excited to be dining alfresco for the foreseeable! We've been prepping our gardens and outdoor furniture for the last few months for our outdoor summer with friends and family, but now it's time to start prepping our recipes for all the outdoor entertaining we'll be doing.
Well Green Isle has your inspiration right here! They have an entire feast of easy, tasty, healthy recipes for all the family to enjoy all summer long! Take time to stock your freezer with the very best of frozen food by Irish family favourite Green Isle and enjoy the convenience of always having delicious, nutritious vegetables and fruit on hand for the summer season ahead!
Whether it's a summer picnic in the park, a weekend BBQ, or some alfresco dining in the garden, Green Isle has put together delicious recipes for all the family to enjoy using some family favourites, Green Isle's Mini Corn on the Cob, Garden Peas, Crispy Potato Cubes and Mixed Berries. From seasonal salads to cool down treats, summer snacks and seasonal recipes, check out their website here for some summer holiday inspiration!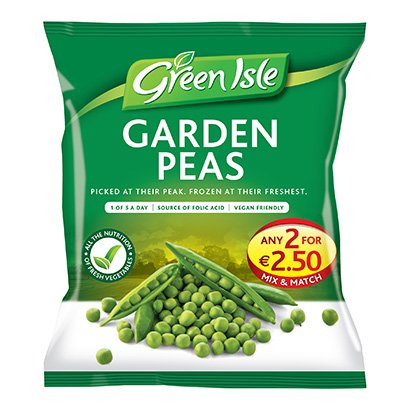 The Green Isle range of vegetables and fruit are carefully selected, picked at their peak and frozen at their freshest to lock in vitamins, minerals and flavour, Green Isle contains all the nutrition of fresh vegetables and fruit. Quick, easy and convenient, with Green Isle you can use what you need, save time on preparation, while helping reduce food waste too! With a great range of Green Isle products to choose from, add variety to your summer dishes and help put your best plate forward this summer season by stocking the freezer with Green Isle family favourites, they're definitely worth the freezer space!
Check out our favourite: Green Isle Pea, Mint, Feta & Courgette Salad with Chilli & Lemon Dressing – a delicious fresh take on a salad, perfect to serve up with any BBQ!
Pick up some of the Green Isle Garden Peas that are packed full of nutritional goodness and are a great source of folic acid. Frozen at their freshest, locking in all nutrients, Green Isle Garden Peas are perfect for summer salads or side dish like this gorgeous pea, mint and feta salad!
Green Isle Pea, Mint, Feta & Courgette Salad with Chilli & Lemon Dressing
Serves: 4, as a side salad
You'll need…
For the salad
350g Green Isle Garden Peas
1 courgette, peeled into ribbons
100g Feta, crumbled
Handful of mint leaves
For the dressing
1 small red chilli, deseeded and finely chopped
Zest and juice of half a lemon
100ml extra virgin olive oil
Salt and pepper, to taste
Method
Place the Green Isle Garden Peas into boiling water. Cover, bring back to the boil and simmer for 3-4 minutes. Drain and place into a large bowl along with the courgette.
Place the dressing ingredients into a small bowl and whisk together to emulsify.
Pour the dressing over the peas and courgette and toss everything together to combine.
Place the salad into a serving bowl and crumble over the feta. Garnish with the mint leaves and enjoy!