Aldi Swap January Challenge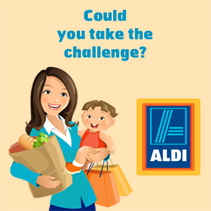 Join this group
January tends to be a month of 'less' – drink less, eat less, go out less, spend less and have less fun. This year, Aldi want you to swap your old January to an Aldi January. By swapping to Aldi, you can enjoy your January by filling up your trollies, enjoying days out with the family and generally having more fun during January.
We are looking for 5 mums who would like to swap their old January to an Aldi January. We will be asking the selected mums to take part in some of our Swap January Challenges:
Use the Super 6 offers to feed your family for a week and share your recipe ideas
Use the Specialbuy items on sale to make January a happier one
Feed your family for less than €50 a week
31 days of happiness
Provide tips on how you saved money during January and what you did with the money to make January a happier month
Tell us what your favourite Aldi product is and why you like it
Breakfast ideas that help kick start your day
Lunchbox ideas for kids and adults
Make one of The Restaurant recipes and enjoy a fine dining meal in January
As a thank you for taking part in the trial, you will receive up to €100 off your shopping from Aldi per week for the duration of the trial. To be in with a chance of participating, please join the group and leave a comment. In the event that we are oversubscribed, we will make our selection at random from qualifying entries.
Recruitment for this group is now closed.

If you would like early notification of new group trials, please visit this page and join the group where you will get early email notification once new groups are live.